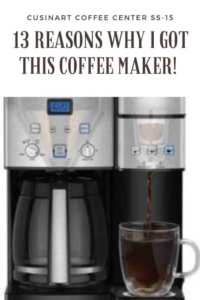 Do you need to make a full pot of coffee for your family every morning? Do your kids or you like to drink single cup of coffee at other times of the day? Do you also need K-cup compatibility on this machine? Read on this Cuisinart Coffee Center Review to find out if it is right for you. 
Cusinart Coffee Center Reviews: Who it is for?
Cuisinart Coffee Center ( AKA Cuisinart SS15 )  is a coffee maker with single serve option. It is great option if you need to brew a large pot for a family of coffee lovers in the morning.
If you need single cups of coffee at other times, the single serve side can meet your needs.
In addition, you can also use Keurig K-cups on its single serve side. So you won't miss out on the large variety of beverage options available in the K-cup ecosystem.
13 Benefits of the Cuisinart Coffee Center SS-15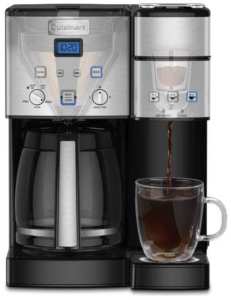 Can make a full pot of coffee or single-serve
This Cuisinart 2 in 1 coffee maker has two parts with two separate water reservoirs. The carafe side can pour up to 12 cups of coffee, while the single-serve part will give you one cup, fast.
Related: Best Dual Coffee Maker Reviews
Store A Lot of Water
The water reservoir on the carafe side takes in 60 oz of water.
Maximizes Coffee Extraction
When you open the lid on top to put in your ground coffee, you will notice the inside of the lid looks like a shower head. This shower head system is far better than simply pouring water on top of the coffee because it will help with getting as much flavor as possible.
Able to use a reusable coffee filter – Reduce recurring costs
Cuisinart Coffee Maker SS-15 comes with a quality reusable filter and a few paper filters. Whether or not you should be using the paper filters or the reusable one is completely up to you. I prefer the reusable ones, simply because it's one less thing to keep in mind when I am doing my grocery shopping but you should try both before choosing one
Have programmable automatic brew start!
These are some of the physical features, but there are some digitally controlled ones as well.
One feature I personally enjoy is that you can program it to pour you a cup of coffee whenever you want.
For example, if you know you will want a cup of coffee at 8 am in the morning, you can program it for that time and your coffee will be ready for you in the morning.
Customizable Coffee Boldness
You will have the option to choose the boldness of your coffee. If you are planning to host a coffee addict soon, your guest will definitely appreciate a cup as strong as they like!
I can stop coffee brewing with Brew Pause Feature!
One little feature they sneaked in is the "brew-pause". You can greedily pause the brewing mid-cycle and pour yourself a cup before restarting it. It's something so small but definitely appreciated by the impatient! That's a feature not highlighted in the product description on the sales pages. But you can confirm on the existence of this feature in the Cuisinart SS 15 manual
Able to adjust temperature
You can also choose one of the three temperature settings (hot, medium, low) for your cup. Overall, the carafe side is a quality coffee maker, but that's only half of the story.
Related:
Best Coffee Maker with Temperature Control
Single-serve side is compatible with all coffee pods including Keurig's K-pod
The single-serve side comes equipped with a water reservoir which can take in 40 oz of water. You can pour yourself a 6 oz, 8 oz, or 10 oz cup right away. So how does that work? The single-serve side is compatible with any single-use coffee pod in the market, so you can just get your favorite K-cup.
Related: K Cup Cuisinart Coffee Maker
Single-serve side allows the use of ground coffee too!
However, some people might not like the idea of buying so many single-use pods instead of just ground coffee. Well, don't worry, they thought of that as well. The unit comes with the "HomeBarista Reusable Filter Cup" which is basically a good quality reusable coffee pod. You simply have the option to do whatever you like.
Easy to clean up
The clean up is easy on both sides. On the carafe side, you can either use a paper filter or the reusable one the Coffee Center comes with.
If you are using paper filters, simply take it out and voila, you are done. If you want to use the reusable filter, take it out and throw the coffee out, now rinse your filter and that's it. Just rinsing the filter is actually better than washing it with dish soap because you want to keep the flavor in. Every time you wash the coffee filter with soap, you are killing all the aroma you could be saving, so don't bother with that.
The single-serve side is also extremely easy to clean up. Simply take out and dispose of the K-cup if that's what you use or rinse the "HomeBarista Reusable Filter Cup" and that's all there is to it.
It can shutdown automatically on its own
One little feature I want to talk about before jumping on to the pros and cons is the auto-shutoff function. With Cuisinart SS-15  Coffee Maker, you won't need to worry about turning your unit off.
This might not be important for some but I know there are a lot of people who tend to forget turning things off. A coffee maker will waste lots of electricity if you just let it do its thing all day every day.
You can choose how long you want your unit on before it automatically shuts itself off so make sure to read the instructions to learn all about it.
Prompt you when it is time to descale the machine
I love the Cuisinart SS 15 clean light feature. This practically means that I do not have to track when it is the last time I did descaling.
Key Specifications of Cuisinart Coffee Center 12 Cup Coffeemaker and Single Serve Brewer
Single serve side:
3 serving sizes of 6, 8, 10 ounces.
Compatible with any coffee pods including Keurig K-Cup pods
Comes with HomeBarista Reusable Filter Cup which allows you use your own coffee
Removable water tank ( 40 ounces)
Energy Saving mode
Removable drip tray
Charcoal water filter
Carafe side:
glass carafe ( up to 12 cups capacity ) with a stainless steel handle
Fully automatic – programmable brew start ( up to 24 hours ), self-cleaning mode, adjustable auto shutdown, ready alert indicator
Coffee strength control
60 ounces water tank
Easy-view water window
Charcoal water filter
Gold-tone coffee filter allows only pure coffee flavor to flow through
Adjustable carafe temperature
Brew Pause feature
BPA free
3-Year Warranty
Video of this Cuisinart 2 in 1 Coffee Maker in action
Pros
Can make full pot (12 cups) of coffee as well as single serve
Large water tank of 60 ounces
Carafe side comes with reusable coffee filter
Maximizes coffee extraction using a showerhead-like system
24-hour programmable automatic brew start feature
You can choose your preferred boldness
Brew-pause feature
Temperature control
Single serve side able to use all coffee pods including K-pods as well as ground coffee
HomeBarista Reusable Filter Cup included
Easy clean up for both sides
Auto-off function
Descaling indicator
You can take out the stand on the single-serve side to fit a travel mug
Potential Shortcomings of Cuisinart Coffee Maker SS-15
Glass carafe
The carafe on the SS15 is a glass carafe. If you are not careful, you may break the glass or even scald yourself. In addition, glass carafe is not really good at retaining heat. If this is a consideration for you, consider the Cuisinart Coffee Center SS20. This is the same coffee maker as SS15, except it comes with a thermal carafe and only has a brewing capacity of 10 cups of coffee.
Other People Also Viewed:
Cuisinart DGB 900BC Grind and Brew Coffee Maker
Cuisinart Coffee Maker SS10 Review
Cuisinart Coffee Maker DCC 3200
Should I buy this Cuisinart Coffee Center SS15?
Choosing the correct coffee maker is an important decision. It is an investment you make to save time and money in the future. Some might think it doesn't matter too much what machine you choose but I would disagree. I think it's important to get something which will work for you so you can avoid headaches as time passes. I tried to show you the features of Cuisinart Coffee Center SS-15. I hope I was able to help you with your decision making. Whatever coffee maker you choose, I hope you make a good decision for yourself and your household!