I will show you 3 coffee makers today. All of them gives you the option to use ground coffee or Keurig K-Cups for convenience. It's also convenient for the times you have a guest who might like a specific K-Cup so you just get a small pack for them and do what you like for yourself. That's obviously just one example, the main point is they give the user (you) the choice! So let's start already! 3 great Cuisinart coffee makers with K cup option coming right up!
Best K Cup Cuisinart Coffee Maker
Cuisinart SS-5 Single-Serve Brewer With K-Cup Option

Let's kick this list off with a little but strong one! Cuisinart SS5 comes in a small size, 10.7″D x 7.25″W x 12.1″H, to be exact. It can be the perfect coffee maker if your counter space is not all that big.
The water reservoir is removable and can take up to 40 ounces of water. Your cup will be 6-10 ounces depending on your choice so the water reservoir will give you up to 6 cups of coffee before it needs refilling!
Earlier I mentioned that all the coffee makers were compatible with K-cups and ground coffee, and this one is! The only downside is that you need to purchase the reusable K-cup filter separately. Okay, now that is out of the way, I can focus on the good stuff again!
Its features include a neat little detail, auto-shutoff! If you forget to turn off your unit for whatever reason, maybe you didn't have your coffee yet, it will wait a complimentary thirty minutes and then simply turn itself off! I think that's a neat little touch which will be useful for some people at least.
This is all nice but how Cuisinart SS5 helps in making good coffee? First we have to ask what is the number one ingredient in coffee. Would you be surprised if I said "water"? Well, think about it! Water makes up most of your coffee, doesn't it? It is kind of impossible for us to have great tasting coffee without having clean water. Your unit will come with a complementary charcoal water filter and they are quite cheap to replace once you think it needs changing. I think just having that option makes this coffee maker better than it already is!
Watch Cuisinart SS5 Single Serve Brewer in action!
This coffee maker does not cost much and might be perfect for those who do not have much counter space. It is overall a great single-serve coffee maker! You might be wanting a carafe side with the option to brew for a larger party, and you will get that option later on in the list. But let's take a look at the pros and cons before all that!
Related: Cuisinart 4 Cup coffee Maker
Pros 
Compatible with ground coffee and Keurig K-cups
Removable 40 oz water reservoir for easy cleaning
Auto-shutoff
Three cup sizes for a bolder or lighter brew
Compact size, suitable for small counter spaces
Comes with a charcoal water filter for a great-tasting cup of coffee
Cons
The reusable ground coffee filter is not included
Cuisinart SS-10 K-Cup Single-Serve Coffee Maker
Here we are looking at another similar K-Cup cuisinart coffee maker. But with some improvements.
First of all, we get five size options instead of three. So you can have a super bold cup at the four-ounce size or take it lighter at the twelve-ounce setting. This coffee maker supports all brands of single-serve pods and is ready to serve them however strong you want!

The water reservoir is a whopping 72 ounces so you will need fewer refills, and you can still remove it for easy cleaning!
And you can't forget the complementary charcoal water filter. You will want your coffee with clean water every time once you get used to it because it is simply superior!

One little feature that means a lot to me is the "rinse" feature. It will simply rinse out the whole brew chamber for a quick clean up! People tend to forget how dirty things can get if they are not regularly cleaned so this feature does add to the experience in my opinion. Simply rinse out that brew chamber!
And ya. Besides the self-rinsing, this model also comes with the auto-shutoff feature.
I think it's important to mention that you might find it annoying, having never tried the Cuisinart SS-10 before, to keep the coffee maker on for the whole day. You might think it will take a long time for the water to heat so it should stay on the whole day! You might have similar reactions if you were using certain other brands before. But let me tell you, you don't need to keep this baby going all day because it heats water up really fast! Go check some customer reviews right now and you will see the truth! You don't need to waste electricity by keeping them going 24 hours a day!
A Demo on Cuisinart SS10
This model comes with the "HomeBarista Reusable Filter Cup", so you don't need to purchase anything else and you will have the option to use a pod or ground coffee. Well, you might need to purchase the coffee. 
I can tell more about the benefits of this coffee maker but I think I covered the essential points. So let's just wrap it up with the pros and cons!
Pros
Compatible with pods and ground coffee.
Comes with a reusable pod so you don't need to purchase anything extra
Comes with a charcoal water filter
Auto shut-off after 30 minutes
Five different cup sizes for different levels of boldness
You can choose brew temperature
Hot water function for tea or soup
Rinse function for cleaning the brew chamber
Cons
Other people also viewed:
Best Coffee Makers with Carafe
Best Coffee Makers without Carafe
Best Travel K Cup Coffee Maker
Best Cuisinart Coffee Maker Reviews
Cuisinart SS-15 Single-Serve and Carafe Coffee Maker

[ Highly Recommended ]
This beautiful coffee maker is the last one I will be presenting you today! The other coffee makers were single-serve! Cuisinart SS-15 gives you an option! This is a dual coffee maker with K cup option.
You can choose to have single serve cup for yourself or up to twelve cups when you have company. For the single serve, you can use ground coffee or K-cup.
Let's take a deeper look at what you can do with this beauty!
One essential thing is that Cuisinart SS15 has two water reservoirs, a 60-ounce reservoir for the carafe side and a 40-ounce one for the single-serve side. You can use a charcoal water filter for both sides and it does come with a complementary charcoal water filter when you first get it!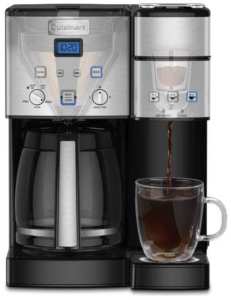 Just like the SS-10, it comes with the "HomeBarista Reusable Filter Cup" so you don't need to purchase anything else and you can use your ground coffee on each side. The single-serve side is also compatible with any brand single-use pod. So you choose what you want, and how you want it. It also comes with a very aesthetic looking gold-tone coffee filter for the carafe side so you don't even need those paper coffee filters.
The auto-shutoff feature has been taken up a level. You can choose an auto-shutoff time anywhere between ten minutes and four hours with this model! Just having the option for that is a nice touch for sure. 
Everything great about the other two coffee makers can be said about this one as well! It does give you different cup sizes depending on how bold you want your coffee. It gives you the choice of pods or ground coffee for the single-serve part. It is a little bigger in size in comparison to the SS-5 or SS-10 but that's a sacrifice you need to make if you want the carafe side after all. 
The bottom line is this is the whole package! It is a great single-serve machine, but when you have company over, nobody needs to wait! It gives you the option for the size and the boldness!
Full Cuisinart Coffee Center SS15 Review
Let's move to the pros and cons in a nutshell.
Pros
Option to have a single cup or up to twelve cups
The auto shutoff feature gives you more of a choice
Comes with the "HomeBarista Reusable Filter Cup" and a gold tone filter for the carafe side
Complementary charcoal water filter
Three sizes for single-serve coffee, you can choose the boldness
Keeps your coffee hot for up to two hours on the carafe side
Cons
Maybe there could have been more size options for the single-serve coffee
Related:
Best Coffee Maker with single serve option
Which K Cup Cuisinart Coffee Maker Should I Buy?
I hope this list helped you with your decision making! All three coffee makers on this list will make you happy for your purchase. You just need to decide which one works better for you. The first two options will be perfect if you only need to have one cup at a time. Don't look any further than the SS-15 if you ever need to brew for a group. I wish you luck with finding your best K cup Cuisinart coffee maker!