Need a coffee maker which can make you both single serve and carafe servings? You have to check out some of the best dual coffee makers in this review.
Best Dual Coffee Makers: 4 Types Available

Dual coffee makers, also known as 2-way coffee makers, allows you flexibility to do more with one machine.
Broadly, there are 4 types of 2-way functions which we can look for in a coffee machine.
Coffee Quantity
The first type is the single serve and carafe coffee maker.  They allow you to switch from single serve to full pots as per your needs. Its single-serve side can get you an exclusive single cup of coffee just for you. Then, there's a carafe side that gets you a larger coffee pot to serve your friends or family. 
Beverage Options
Another type is one that makes coffee and other drinks as well. This machine keeps the coffee maker intact while adding a hot water dispenser as well. This extra dispenser lets you make other drinks such as teas, Cocoa, and other hot drinks.
Beans or Pods
The third type comes with inbuilt grinder and allows you to switch between coffee beans or coffee pods.
Ground coffee or Pods
The last type allows you to use ground coffee or customised coffee pods such as the Keurig K-cup.
Often, you can find multiple dual functions in such combo coffee makers.
Best 2 Way Coffee Makers
In this review, we have round up some of the best 2 way coffee makers, some of which has several dual functions.
Hamilton Beach 49976 – Stylish, highly affordable K-Cup single serve and coffee maker combo.
Cuisinart CHW-12 – BPA-free, automated, and makes various hot drinks apart from coffee.
Cuisinart Coffee Center SS-15 – BPA-free, beautiful dual brew coffee maker with K cup option and packed with smart features
Breville BDC650BSS

[Recommended]

– Perfect grind & brew single serve and full pot coffee maker
1. Hamilton Beach 49976 2 Way Coffee Maker with K Cup Option
Hamilton Beach 49976 seems to be the epitome of versatility and style that a coffee maker can allow. It's a two-way coffee maker offering single serve, full cup, and 12 cup brewing options. So whether you want a cup at home, a full cup on the go, or a larger pot for a group, it's there for you.
Adding up to the versatility, the Hamilton Beach 49976 also comes with K-cup options. Hence, the coffee machine can work with or without the K-Cups.

So if you need to use your own coffee grounds rather than the coffee packs, you can do that easily.  But if you prefer making single serve coffee, you have a lot of beverage options in the K-cup ecosystem as they are many vendors offering over hundreds of Keurig K-cup beverages. These beverages are not restricted to just coffee. They include tea, cocoa and more.
Another amazing feature of the coffee maker is the choice of coffee strength. You can order it anything from regular to bold brews as per your mood.
Need your coffee ready at a fixed time? You can totally do that with the 24 hours advance programming option of the machine. This Hamilton Beach FlexBrew features a digital clock for the convenience of programming.
Each side of the coffee maker has a dedicated reservoir of its own with transparent windows for water level monitoring.
The Hamilton Beach 49976 brings to the table a whole brigade of automated features providing the most advanced coffee brewing. The first ones in the league are the auto serve and auto pause features. With these amazing features, you can remove the carafe to brew yourself your own kind of coffee without dripping.
The next is the extremely handy feature of the auto stop once the coffee is ready. So if you often stay busy at home, you don't have to sprint towards the machine to make it stop. The two hours keep-warm cycle keeps your coffee warmer for longer.
Finally, this Flexbrew 2 way coffee maker is an incredibly easy-to-use machine. The machine owns an adjustable cup rest that you can use in various ways. You can let your coffee mug, your K-cup pack holder, or even your single-serve basket rest on it. Cleaning the machine can't be an issue with the easily removable pod-piercing assembly tool. This also helps prevent clogging.
Pros
K cup and drip coffee maker : Allows the use of Keurig K-cup or ground coffee
Allows you to make single-serve and carafe for 12 cups
Separate reservoirs for single-serve and carafe
Able to set the brew time up to 24 hours in advance
Built-in automated shutdown
  Cons
Coffee kept in the machine gets cold fast.
Full Hamilton Beach Flexbrew Review
2. Cuisinart CHW-12 2-Way Coffee Brewer
An avid coffee lover can't get anything better than a coffee maker that looks classy and tastes delicious. That's exactly what the Cuisinart CHW-12 intends to be. The beautiful machine has garnered a lot of fame among the users and you rarely find someone not happy with it.

With the CHW-12, you can make a full coffee pot for 12 cups or choose a 1 to 4 cup options. Besides being a 2-way coffee maker in its brewing capacity, it has another dual function in the drinks it makes.
With its separate hot water dispenser, it's more versatile than most coffee makers in the market. So the machine isn't just a great coffee maker but can also get you amazing teas, hot chocolates, oatmeal, soups, etc. The dispenser can be easily operated with the main nozzle itself.
Related: Best coffee maker with hot water dispenser
Like most other Cuisinart machines, the CHW-12 works as a fully automated unit. The machine makes sure that you don't have to labor much for your drinks. Even the switch-on and shut-off features are automated. So it can always save you the day if you often neglect your machine while working. 
Ever heard of a brew-pause feature? This Cuisinart coffee maker gets that for you. With this feature, you can pour your coffee before its ready in case you can't wait.
Another very useful feature is the programmability to set the brew time 24 hours in advance . Like to have an early morning coffee, just set your time and the machine is down for it.
The Cuisinart CHW-12 brings you a carafe temperature customization feature. The feature comes in handy when there's very little coffee left and you don't want to overheat it. You can adjust the temperature through an interface which displays it as low, medium, and high.
Also, cleaning has been a forever issue with most coffee makers. With CHW-12 you're totally going to love the self-cleaning feature. The machine takes Cuisinart's self-cleaning technology a notch up. This time it's even dishwasher safe.
An extremely commendable effort of Cuisinart in its CHW-12 is the use of BPA-free materials. BPA or Bisphenol-A can be highly dangerous for human health and sticks to most of the utensils. Not in Cuisinart CHW-12, though. And don't forget about the gold-tone coffee filter and charcoal water filter that you get with the unit. You can have your drinks free of impurities with these.
Watch this Cuisinart Single Serve and Carafe Coffee Maker in action.
Check Latest Price At Amazon

Pros
can make a full 12 cup carafe or choose a 1 to 4 cup options
Separate hot water dispenser to make tea, hot chocolates or even oatmeals
Stylish and easy to use
Temperature control for Carafe
Programmable up to 24 hours in advance
BPA-free material
Brew pause feature


Cons
The Cuisinart Coffee Center SS-15 presents the perfect blend of the positives of Cuisinart SS-10 and DCC-3200. This coffee maker is a smart blend of the most amazing features of the two to make it a machine hard to beat.

It can make you a full coffee pot. It can also make 6, 8 or 10 ounces single cups. 
This multi-talented Cuisinart machine has beautifully mixed treated steel with a few plastic parts. The machine has a tempered steel handle and uses totally BPA-free materials which is a great gain.
There's a control board at the front of the machine to let you control what you make. You can control both the carafe and single-serve sides with the board. You can also control the quality of the brew as per your taste standards with this control board.
Related:
Best Combination Coffee And Espresso Makers
This SS-15 has a 40 ounces removable water repository. Also, the carafe side has its own 16 ounces water repository. With the single-serve side, you can even use your travel mug with a removable trickle plate. An emergency switch lets you stop the brewing midway just in case you need to do so.
The SS-15 is more of a smart coffee maker. The advanced smart technology lets you know when it is time to clean the machine. Another handy feature is the power loss back up. This lets your machine remember your preferred settings in case the power goes off. Moreover, it includes a unique hot plate control to avoid the burning of coffee beans. There's a 3 temperature setting for the same purpose as well. 
The Cuisinart SS-15 is also fully programmable. With its programmable clock, you can precisely set the time you want to have your cup ready.
In addition, this is a Cuisinart coffee maker with K cup option. So, you can choose to use the machine with or without the K-Cup cases. There's a Home Barista Reusable Filter Cup to let you use your own coffee grounds on single serve side.
Cleaning of the SS-15 is really easy which quite a desirable aspect is. The control board on SS-15 gives you an amazing self-clean option. The coffee is made to restore its taste with a gold-tone coffee filter.
Watch this Cuisinart 2 way brew coffee maker in action
Pros
a full pot coffee maker with single serve option for 6, 8, 10 ounces
Can use coffee grinds or K-cup
Brews very fast
Programmable auto-shutoff
Charcoal water filter improves coffee taste
Variety of smart features
BPA-free material
Cons
4. Breville BDC650BSS Grind And Brew Coffee Maker
The Breville BDC650BSS impresses even the pickiest coffee lovers with its features. The machine is aesthetically sleek and beautiful which the first thing you would notice is.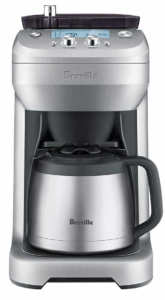 Also, it's a grind and brew coffee maker that makes sure you get the exact grind you desire. Rest assured, with every cup out of the machine, you can feel the machine just read your mind.
Related: Best Coffee Maker With Grinder Reviews
Again, the Breville BDC650BSS is a two-way coffee machine with single-serve and carafe sides. The single-serve side of the machine has an amazing feature. Here you can choose from multiple coffee sizes to include the amount of cream or milk for your cup. On the other side, there's a thermal 12 pot carafe side. The insulated carafe makes sure your coffee stays hot longer, reducing the need to reheat.
The Breville BDC650BSS doesn't skip the all handy programmability feature as well. It has programmable auto-start and auto-shut off options. So you can set it to start at a certain time, brew all the coffee you need, and turn off when done, all by itself.
The removable drip tray feature in BDC650BSS can also be useful. With a fixed tray, you cannot place a tall coffee mug under it. That won't be the case with this machine. Just remove the drip tray and pour your coffee in a cup of any height. And it also makes the cleaning of the tray quite easier.
The machine also holds a sleek easy-to-read LCD screen outside its grinder. This screen keeps you aware of the water level, coffee strength, grinding size, and grinding/brewing time. Here you can change your coffee's strength to get yourself the perfect cup. You can also set the exact time of grinding and brewing.
Hot coffee is a bliss. The BDC650BSS makes sure that you get to savor the tight temperature. It comes with temperature control which eliminates the chances of cold coffee.
Watch this Breville Single Cup and Carafe Coffee Maker in action

Pros
12-cup full pot and single serve coffee maker
Comes with grinder
easy and handy LCD screen
Stainless steel thermal carafe
Temperature, strength, and grind control
Water level monitoring
Programmable Auto start
Overflow warning
Cleans easily
Cons
Which is the best dual coffee maker?
Coffee lovers can be very specific in their taste. So what's the best dual coffee maker for you to buy is subject to your personal preference.
Having said that, every machine in the list is amazing and worth buying. You can buy any of these and you most probably would succeed in satisfying your coffee bug.
Talking about the best of the above four, any of them can be the winner on different fronts.
The Hamilton Beach 49976 can be your go-to option if you need a stylish machine offering high versatility in coffee brewing.
You can buy the Cuisinart CHW-12 if you crave other hot drinks apart from just coffee.
The Cuisinart SS-15 is an amazing option due to its automation.
Lastly, if you need an amazing grind and brew coffee maker, it doesn't get better than the Breville BDC650BSS.
Rest assured. You would do great with any of these dual function machines. Just identify your basic needs and choose the best fit.