Is coffee the first thing you need as soon as you wake up? In that case, you'll have to give up on the idea of running errands around the cafes. It's obviously convenient to have a coffee machine ready to serve when you want it to. Now, more often than not, our coffee needs are limited. Hence, the full 12-cup carafe seems to flood us with unwanted coffee. If it seems to be your story, get yourself one of these best 4 cup coffee makers. This is your permanent fix.
Best 4 Cup Coffee Makers
So you think 4-cups coffee machines is what you need? That's quite a good idea. Why pay for extra if you don't even need it?
But there are so many 4-cup coffee makers out there. Which one should you choose? After spending the past 1 week researching on all the 4-cup coffee makers in the market, I would like to present 9 of the best 4-cup coffee makers for your consideration.
1. Hamilton Beach 46299
Hamilton Beach 46299 is a promise for fresh coffee flavors and aroma. It's kind of versatile as a 4-cup coffee machine. Actually, it's a 12 cup coffee machine which gives you an option to turn it into 4-cup as well. So it can take care of you if you need to feed a couple of friends or a large group. And of course, it's a great looking machine in an elegant plastic body.

Do you like a strong brew or the regular one? It doesn't matter. You can have a nice variety with the coffee maker. With Hamilton Beach 46299, you get as many as 3 brewing options to get exactly the quantity you want. You can choose from a regular cup, a bold cup, or 1-4 cup option. The machine also gives you an convenient cord storage beneath it to keep your counter clear of excess cord.
The Hamilton Beach 46299 comes with useful automation. It features a digital clock with a timer where you can easily program your next brew time beforehand up to 24 hours.
It also has a 2-hour auto shutoff feature. So obviously, you don't have to worry about leaving it on.
In case you are in a hurry and need a cup of coffee before the machine has done brewing, you have an option. With its auto pause-and-serve feature, you are covered on this front as well.
The reservoir in the Hamilton Beach is easy to fill. There is also a handy water window on its side to allow you easy viewing of the water level. You can easily check and refill it when needed.  
The timer and control buttons are available below the carafe. There's a light indicator for the power switch, a programming switch, and a button to choose your brewing option.
In a nutshell, the Hamilton is a simple and fully programmable coffee maker with more focus on the brew quality.
Pros
a dual coffee maker offering both 1-4 and 12-cup options
programmable up to 24 hours in advance
2-hour auto shutoff
water level window by the side
non-stick hot plate
cord storage
affordable
Cons
Doesn't come with a permanent coffee filter. Paper filter are wasteful.
2. Braun KF6050WH BrewSense

[Recommended]
The Braun KF6050WH BrewSense  is designed very elegantly with a mix of smooth stainless steel finish and plastic housing. It has got a classy display, easy buttons, and LED indicators. It's quite compact with little footprint and offers cord storage as well.
Related:
Best Under Cabinet Coffee Maker
But what makes Braun KF6050WH stands out are its features in giving you high quality coffee. That explains for its higher price tag.

Brew time and temperature are important factors affecting the taste of your coffee.   With Braun's pure flavor system, it will extract the coffee at the right brew time and temperature. This results in the best flavor and aroma for your drink.
Its use of gold-tone filters help to enhance the flavor of your coffee along with retaining essential oils during the brewing process.
Its use of a charcoal water filter helps to keep the impurities from getting into your coffee. Thus, this help to further improve the coffee taste.
Apart from taking care of the brewing process to ensure high quality coffee taste, Braun BrewSense also has features to preserve the coffee taste after brew. Its glass FlavorCarafe is designed to minimize air exposure. With minimal air exposure, the coffee taste is preserved for a longer time.
Besides features for giving a high quality coffee, it is also a dual coffee maker. It can brew you anything form a single cup to 4-cup and even the full 12-cup. With its pause-and-serve anti-drip system, you can sneak a cup midway while brewing without a mess.
Need a cup first thing when you wake up? You can totally plan your coffee 24 hours ahead of your time with this machine. The machine would automatically shut off in case you took too long to wake up. The programming clock is also quite visible from a distance.
Cleaning is also easy. The use of permanent gold filters remove the need to deal with flimsy paper filters, which may tear and spill out the leftover coffee grounds.
You also get descaling alerts to prompt you to descale the coffee machine. This process must be performed periodically to remove the lime built-up arising from boiling hot water in the system. If not, the built-up will affect coffee taste and also the heating performance.
With descaling alerts, you don't have to keep track of this descaling routine. Also, the descaling frequency depends on the water hardness (impurities such as calcium carbonate). Fortunately, Braun BrewSense allows you to modify the descaling alerts according to the water hardness.
For convenience, there's an incredible water level indicator to let you fill the right quantity of water.
Pros
Makes high quality coffee with its pure flavor system
Gold tone permanent filter to enhance coffee taste
Charcoal water filter to remove impurities in water
Well designed carafe to minimize exposure of coffee to air
Can make 1 cup, 4 cups, and 12 cups options
Elegant
Descaling alerts, adjustable according to water handness
Able to pause for a cup of coffee before brewing is completed
Able to program auto-start time up to 24 hours in advance
Auto-shutdown
3 years manufacturer warranty

Cons
No options to adjust brew strength
The first things that you'll love about the Cuisinart  DCC- 450BK is its highly compact and very durable design. The machine weighs just about 3.25 lbs and features an elegantly blended stainless steel and plastic body. Thus, it is really suitable for small spaces such as dorm. You can even consider bring it along for your travels!

The DCC-450BK is an impressive thermal carafe coffee maker. The stainless steel carafe features a dripless pour spout plus a knuckle guard. So it's hardly prone to any sort of cracking or breakage. Also, the carafe has got quite an amazing heat resistance to keep your coffee hot for hours. The stainless steel decanter doesn't take away anything from the richness and delicacy of your coffee. 
The Cuisinart DCC-450BK is designed as per the electrical standards of North America. The illuminated on/off indicator would let you know whether its working or not. The operating switch is a mechanical toggle-type of a switch and is well on the quieter side. It works quickly and you can have your coffee within just 3-4 minutes. However, the machine has no timer or clock to monitor the brew time. With its 30-minutes auto-shutoff feature you can relax without worrying about leaving it on.
Whether it's an emergency or you just like to have partially brewed coffee, you can have it with DCC-450BK. It's got a very handy brew-pause option with which you can pour your coffee while the machine isn't done brewing.
It supports a size #2 paper filters. However, you can buy and use permanent ones as well. There's also a robust handle for the comfort of serving coffee.
And yes, all the materials used in the body are BPA-free.
Pros
Sturdy stainless steel design
On/off indicator
Uses BPA free materials
Option to pause the brewing
Auto shutoff in 30 minutes
3-year warranty
Very affordable
Cons
The carafe isn't transparent. Can't see the coffee left in the carafe
4. Mr. Coffee DRX5 4 Cup Coffee Machine
Mr. Coffee DRX5 4-Cup Coffee Maker is a blend of charm and convenience. It looks just adorable in a plastic body with a matte finish weighing merely 3.1 pounds. With such portability, it makes a good option to have if you have limited space for a coffee maker.

Despite its small size, it is a convenient coffee maker to have.
Mr. Coffee DRX5 works pretty fast and can fill 4 cups for you in just above 5 minutes.  Also, it operates very silently while it brews your cup. You rarely hear it except when it starts the boiling process.
You can also set the time at a maximum of 24 hours ahead of your plan to have a cup. You can also pause the brewing for a cup of coffee with its pause-and-serve feature.
Mr. Coffee keeps would warm your coffee for an hour. After that, the machine automatically shuts off.
The buttons and display are conveniently located below the carafe. There is a green light indicator to indicate whether the machine is engaged or idle.
The water reservoirs are equipped with transparent water windows to let you monitor the level. This makes sure you always know how much water you have in there and when to refill.
Every part of the machine including the lid, filter basket, and glass decanter are dishwater safe making it easier to clean.
For its compactness, it still has cord storage to store your excess cables. It is indeed very value for money, given its features.

Pros
Portable and lightweight
Can serve 4 cups of coffee
Able to set auto-brew start time
Option to pause and serve a cup of coffee before brewing is done
Warming plate is non-sticky
Cord storage
Cons
5. Barsetto 4-Cup Coffee Maker

[Very Fast – Best For Office]
The Barsetto 4-cup coffee maker makes an amazing choice as a coffee maker for office. First of all, the classic build is more compact than many other machines. It weighs only 2.25 pounds and yet gives you 600 ml carafe to serve you up to 4-cups at a time.
Mesmerizing coffees at home were not this effortless ever. Just make an effort of a click and the 600W of power within the machine will let you have your cafe-quality cup within a minute. It's that easy to use.

Beside its ease of use, the Barsetto has many convenient features.
Its semi-transparent glass carafe is drip free with a fancy lid. The sprout is designed to keep your pouring mess free. The carafe curves the coffee stream into your cup and draws it back off to prevent spilling.
The coffee maker includes a permanent ground filter that works with your ideal coffee grounds. Hence you no longer need to waste money on disposable paper filters.
In addition, the filter basket can be lifted easily, making it easy for you to fill it or to clean it.
The water reservoir comes with window and well-defined cup markings. So you can always check the level of water and refill the right quantity when needed.
The safety of the user is taken care of in this Barsetto coffee maker. The machine uses only BPA-free materials in its body. Even the carafe has a high-temperature resistance feature to keep you very safe throughout the brewing process.
Adding up to the benefits, the machine is so silent that you won't even feel it's doing something. The 2-year manufacturer warranty along with 24/7 customer service make it a safe bet.
Pros
 Make 4 cups of coffee in 1 minute
Very compact and lightweight
Highly affordable
Easy to use
Water window by the side for checking water level
Permanent coffee filter
High-temperature resistant carafe
Use BPA-free materials
2-year manufacturer warranty plus 24/7 customer service
Cons
Glass carafe is not as effective in preserving heat as compared to stainless steel carafe
Glass carafe is also prone to breakage
6. Capresso 303.01 4-Cup Coffee Maker
If you're a fan of espresso, you can't ignore the Capresso 303.01 Espresso and Cappuccino maker. When it comes to espresso and cappuccino, it's by far the best 4-cup machine for its price.

The coffee maker includes a frother to let you make amazing tasting lattes, cappuccinos, etc. It also acts as hot water dispenser for making Americanos or other hot beverages including hot chocolates.
The swivel frother in Capresso 303.01 is highly flexible. That means you can adjust it to froth varying quantity of milk.
It has a powerful boiler that heats up the machine quite quickly. You can expect you 4-cups in no more than 5 minutes.
The Capresso also contains a few safety features. It has a safety valve for its boiler cap for enhanced safety. The filter holder also has a thumb guard for safety and ease of use.
Cleaning is also not an issue. The stainless drip tray is easily removable and dishwasher safe.
Pros
Can make espresso, cappuccino and hot drinks
Can make 4 cups at one go in less than 5 minutes
Swivel frother
Hot water dispenser
Quick heating with powerful boiler
Safety features in boiler cap and protective thumb guard
On/off indicators with light
Removable drip tray
Dishwasher-safe carafe
Cons
Not pump-powered. Unable to achieve optimum pressure for making espresso. Hence, espresso is not authentic.
7. Elite Cuisine EHC-2022 Maxi Matic 4 Cup Coffee Machine
Another feature packed machine gathering all the goodness of a 4-cup coffee maker is the Elite Cuisine EHC-2022. It would be a fine machine for your home or office. The machine is very compact to save you a lot of space on your countertop. And of course, it would brew you the perfect coffee in no time.

The EHC-2022 Maxi Matic is a classic 4-cup machine weighing just about 2.4 pounds. Get this if you crave fresh and hot homemade coffee but are low on space for a big machine.
The Elite Cuisine EHC-2022 comes with automatic warming feature. This keeps your freshly brewed coffee hot for an hour after brewing is done.
Cleaning is convenient. The glass carafe is dishwasher safe. So cleaning the carafe won't be a big task. Its removable coffee filter can be washed and reused with the machine.
For added convenience, you get a water level indicator to be aware when it's time to refill.
If you need a cup of coffee before brewing is done, the EHC-2022 can do just that.
Pros
Can make 4 cups of coffee
Portable and compact
Easy to use
On/off indicator
Water level indicator
Reusable filter
Pause n serve feature
Cons
No auto shutoff feature
The design isn't sturdy
8. Mr. Coffee ECM160 4 Cup Espresso Maker
Would you like to savor the flavor of cafe rich espressos? Or rather lattes and cappuccinos with perfect froth? Just get the Mr. Coffee ECM160 and true comes your dream. 

Mr. Coffee ECM160 is a steam espresso maker which makes you amazingly dark and rich espressos. The heated steam is quite intense for amazing coffee extraction and a fine aroma.
In addition, it comes with its milk frother. You can thus use it to create bold lattes and cappuccinos with milk.
Mr. Coffee ECM160 brews 4 cups of espresso ( equivalent to 20 ounces ) at a time. Its glass carafe with a capacity of 20 ounces is easy to use. You can pour your drink with just a tilt of your wrist. This carafe even features serving measures, a drip-free spout and a stay-cool handle.
Also, the drip catcher is removable. So you can easily collect coffee drips and clean the catcher for a cleaner brew setup.
The ECM160 can be easily placed in the list of most compact coffee makers. It weighs just about 5.5 pounds and takes very little space. So it can quietly sit at a corner on your countertop.
Mr. Coffee ECM160 is a very affordable brewing machine. And with such incredible features at an affordable, you don't have to think twice before buying it. The coffee maker also brings with it a useful recipe guide. Use it to learn and experiment with different caffeinated recipes. Another accessory that you get with the machine is a measuring scoop.
Pros
Makes espresso and cappuccino
Manual frother
Compact design
Easy pour carafe with insulated handle
Removable and easy to clean drip catcher
Affordable
Cons
Water reservoir is fixed.
Not pump-powered. Unable to achieve optimum pressure for making espresso. Hence, espresso is not authentic.
9. Cuisinart DCC-3200
The Cuisinart DCC-3200 is the epitome of versatile programming features that a coffee maker can offer.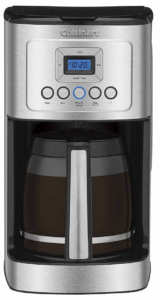 The machine gives you options to control the taste and quality of your drink. You can choose your preferred coffee strength and even warming plate temperature. For even stronger coffee, you can add extra grounds to the filter basket. It can take up to 15 tablespoons of it. So, if you're too choosy about your coffee, it can easily take your tantrums.
With the Cuisinart DCC3200, you can program both the auto-start and auto-off feature. The auto-start time can be set up to 24 hours in advance. And the auto-off can be set to up to 4 hours after brewing. So you have 1 less chore in the busy morning – that is to make coffee and shutdown the machine.
 If you are really in a rush for time, then use its brew pause feature to stop the brewing and grab a cup of coffee first.
The Cuisinart DCC-3200 is a 14-cup coffee maker but you can also turn it into a 4-cup coffee maker. The machine would give you 5 beeps when it's done brewing.
For an amazing coffee taste, the machine uses a charcoal water filter. This filter can get rid of any trace of offensive taste or odor from your water. A permanent gold tone coffee filter is also used to enhance the coffee taste.  You can't use thermal carafe with the coffee maker, though.
The DCC-3200 uses all BPA-free materials in its body. The machine would prompt you about the time to clean it through an LED indicator. Cleaning the coffee maker is quite simple as well. Just run white vinegar and water through it followed by clean water. You can choose to wash the carafe, lid, and brew basket with hands or a dishwasher.
Full Cuisinart DCC 3200 Review

Pros
Very versatile coffee maker
Brew strength options – regular or bold
3 Temperature options for carafe warming plate
Programmable auto start brewing up to 24 hours in advance
Programmable auto shutdown up to 4 hours after brewing
Resuable gold tone coffee filter for better coffee taste
Charcoal water filter to remove impurities in water
BPA free materials
Descaling alerts
Cons
Glass carafe is prone to breakage
Should I Buy a 4 Cup Coffee Maker?
We like our coffee hot and strong, right? Nobody wants to have a coffee reheated several times. So, it's important that your coffee maker doesn't serve you in excess.
Talking about the 4-cup coffee makers, these are the best machines suited for small families. It serves two large travel mugs in a single go.
The 12-cup or even the 8 cup coffee makers would be amazing for a large family without any doubt. But if you're a small family with just 2 to 3 people, you can't get it better than the 4-cup coffee machines.
Which Is The Best 4 Cup Coffee Maker?
Now, you just saw and read about some of the best 4 cup coffee makers in the present market. Although we've narrowed down your options quite a bit, there still are plenty of them. So what 4-cup coffee maker should you buy?
We can tell you our favorites but can't decide yours. Your personal best coffee maker depends upon what you expect from the machine. Every machine on the list is a valuable buy and thus it comes down to the features most desirable to you.
Some of these are programmable while some are more compact than others. Some machines are amazingly versatile while some have frothers for nice lattes.
There also are machines that can give you full 12 cups along with the 4-cup option. Then there are amazing features like Pause-N-Serve, Auto Shutoff, and much more.
So weigh your needs well and choose the best match out of the above 9 superb 4-cup coffee makers. Have a nice coffee day!