Choosing the best drip coffee maker for your home can be quite a daunting task. There are simply an overwhelmingly large number of different brands and their models available. In this review, I would like to share some of the key factors to look at and 9 of my favorite coffee machines.
7 Key Factors To Consider When Choosing The Best Drip Coffee Maker
 
Finding the right coffee maker amongst so many choices in the market can be time-consuming and energy sapping. However, if you know the right factors to consider in a machine, your job is half done. So here are the key factors to look for in your perfect brewing machine.
i. Coffee taste
Taste is subjective but matters the most. You're not going to drink the features of the machine but the coffee. It's important that the machine brews coffee of your style and taste. Do proper research on the taste results of different machines. If you don't like the taste, you're soon going to hate your coffee maker.
ii. Carafe size
If you're a single consumer, always go for a single-serve machine. For a small family, you can have 4 or 5 cup machines. Finally, you can go for 12 or 14 cups for large groups or offices. You don't want to brew a cup repeatedly and you also don't want to waste your coffee by brewing extra. Quantity matters!
iii. Ease of use
Everybody wants to have a machine that can be easily operable without much labor. A machine that is easy to use would mean that the learning curve would be less steep.  Cleaning shouldn't be an issue either. Ease of pouring and a comfortable handle would be delightful.
iv. Size of machine
Not every one of us has a spacious countertop. Even if you have, having a compact coffee maker has its own advantages.
So having a compact machine with a small footprint is just nice. But if you need larger carafe, you may need to go for a bit bigger machine.
If you want to keep your counter space free, then consider under cabinet coffee maker
v. Brew time
Some people care only about the taste of their coffee. They won't mind staring at the machine while it works for several minutes. Then there are people who just want it right away. Hence, the brew time is something you may want to pay attention to.
vi. Price
Price is always an important factor and coffee makers vary a lot with it. You have the choices ranging from most affordable ones to the very expensive ones. Typically, those with advanced features are expensive. Hence, it will be good to define your needs before searching for one that serve most of your needs within your budget.
vii. Advanced features
Coffee makers these days offer some very handy advanced features. Some automatic coffee makers can allow you the capability to program it to start brewing at a future time and auto shut down after brewing.
Do you hate refilling the water tank? You have to check out coffee makers with water line.
Some coffee makers also come with hot water dispensers.
If you need to brew coffee for a large group and make just a cup of coffee at different times of the day, go for coffee maker with single serve and carafe on the same machine.
If you like to be able to brew ground coffee & Keurig K-pods, consider these K-cup cuisinart coffee maker
The bottom line. Look for what you need and get the best bang for your buck.
Best Drip Coffee Maker Reviews
Finding it hard to pick the best drip coffee maker? Don't worry. I have gone through the pain. And I'm going to present to you 9 best drip coffee makers for your consideration. To facilitate your search, I have grouped them by different price ranges. Have a look.
Under 50 dollars:
Capresso 426.05 – Very affordable 5-Cup Coffee Maker
Under 100 dollars:
Braun KF7150BK – 12 cup coffee maker with programmable auto-start and auto-off
Cuisinart DGB-1 – Single serve coffee maker with a grinder. Suitable for personal use

Cuisinart DCC-3200 – Large 14 cup programmable coffee maker
Cuisinart DCC-3000 – 12 cups coffee dispenser suitable for small office environment
Ninja CE201 – Stylish coffee maker with thermal flavour extraction technology
Over 100 dollars
Breville BDC650BSS – Highly versatile 12 cup grind & brew coffee maker with 8 brew strengths and pre-brew temperature control. allows both preground coffee and coffee beans
Bunn BT – This is a very fast coffee maker with 10 cups capacity and hot water dispenser
Zojirushi EC-YSC100 – Thermal carafe coffee maker with thumb activated pouring system for carafe
Best Coffee Maker under 50 dollars
Capresso 426.05 – Highly affordable auto drip coffee maker

The Capresso 426.05 5-Cup Drip Mini Coffeemaker is all about that perfect balance in your coffee. It would brew faster than most other machines do. So, the coffee maker can provide quick coffees while making sure it's not over extracted and bitter.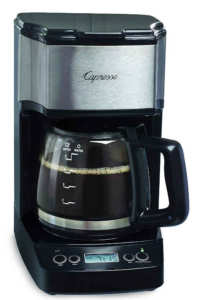 This Capresso is a 5-cup coffee maker that lets out 25 ounces of coffee at a time. The coffee maker looks very elegant in its black design, exquisitely blended with stainless steel accents. And its LCD display has a programmable timer. This timer would help you program the machine to start brewing up to 24 hours in advance.
Also, if you often forget your coffee maker on, you have no concerns about it with this machine. It can take care of itself with the 2-hour automatic shutoff feature.
Need an urgent coffee mid-brew? You can also pour a cup while still brewing with a drip stop feature.
Its glass carafe has a drip free design. So if you have a history of spilling some coffee while pouring, you're going to change it with this machine. There's also an ergonomic handle attached to the carafe for ultimate ease of pouring.
This automatic coffee machine uses a permanent gold tone filter to enhance the taste of your coffee. This eliminates the need for paper filters and can save you some money in the long run.
The water reservoir is very easy to fill. For convenience, it has markings for 1 to 5 cups to let you know how much to fill for your required cups of coffee.
Pros
Make 5 cups of coffee
Able to program auto start brew up to 24 hours in advance
2 hour auto shutdown
Brew pause feature for a cup of coffee before brewing is done
Drip stop mechanism
Quick brewing
Drip-free carafe with handle
Permanent gold-tone filter
Warming plate to keep carafe warm
Very affordable
Cons
glass carafe is more fragile.
Best Coffee Maker under 100 dollars
 Braun KF7150BK BrewSense –

Best Tasting Coffee Maker

Braun KF7150BK BrewSense is one of the best tasting coffee maker for its price range. And there are reasons to why this is so.
Good coffee depends on the time taken to brew your coffee and the temperature at which brewing occurs. Braun BrewSense takes care of this two aspects with its PureFlavour system. This system ensures coffee extraction takes place within the right brew time and at the right brew temperatures. With optimum coffee extraction, you can enjoy a rich and delicious coffee, packed with all the flavours and aromas inside the coffee grounds.
But there's not all. To enhance the coffee taste, gold tone filter is used in place of paper filters. This help to ensure that the essential coffee oils can flow right through during the dripping process.
Water, being a key ingredient for coffee, can make or break a coffee too. Impurities such as chlorine traces, lime can alter the coffee taste. But Braun has this covered too. A charcoal water filter is used to filter away these impurities in the water.
And Braun BrewSense doesn't stop there. It also ensure that the brew coffee can remain fresh and warm to preserve the coffee taste. Its carafe is designed to minimize the exposure of the brew coffee to the air. There is also a warm plate to keep the brewed coffee warm. And there are 3 warming settings to choose from, depending how warm you like your coffee to be at.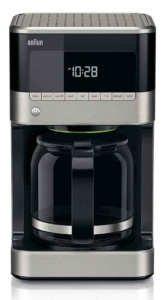 The Braun BrewSense is ideal for both small and large household of coffee lovers. You can make 1 to 4 cups of coffee or even a 12 cup carafe. You can also choose the preferred coffee strength between regular and bold options. The bold feature here can brew you a seriously strong coffee.
Another amazing feature of the Braun KF7150BK is the very handy brew pause option. This would help you pour a cup even when the machine isn't done brewing. The anti-drip feature reduces the chance of any mess by ensuring that you don't spill your coffee in the process.
In addition, it is a automatic drip coffee maker. With a timer attached to the machine, you can plan your coffee beforehand by setting the programmable time up to 24 hours. Also, it doesn't give you the pain of staring at it till it's done just to shut it off. With its auto shutoff feature, you are all covered. And best of all, you can program the auto off time up to 5 hours after brewing.
Talking about the ease of use, the Braun KF7150BK lets you control all its settings through a simple user-friendly LED control panel. For better accessibility, this digital display is designed to be rather large.
Braun KF7150BK is programmable, compact, and brews amazing coffee. It's also easy to use and gives you all the important features. And it looks just stunning. So if you were wondering that with these qualities it's going to be out of your budgets, you're wrong. It's got an extra quality and that's affordability.
Pros
Able to make 12 cups carafe of coffee
Has 1 to 4 cups of coffee option
PureFlavour system to ensure right brew time and temperature
Gold tone coffee filter to enhance coffee taste
Charcoal water filter to remove impurities
Able to program auto brewing up to 24 hours in advance
Programmble auto shutdown up to 5 hours after brewing
Brew pause feature
Easy to operate and program
Cons
Glass carafe is more prone to breakage than stainless steel ones.
 Cuisinart DGB-1

So you're going to have your coffee alone at home? And you don't like to compromise your flavor? Why invest in a large carafe only to make more coffee than you need?
Take a look at the Cuisinart DGB-1. This is a single cup coffee maker with grinder.
It has a small independent blade grinder. The automatic grinder easily grinds your whole beans. Soon the grounds enter the filter basket and you are ready to have your cup.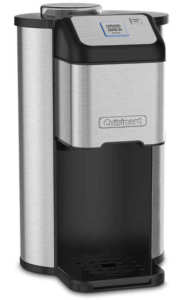 Cuisinart DGB-1 is very easy to control and use. There's no knowledge or skill you need to know. Even a novice can bring up a delightful cup with the machine. You just have to add your beans to the grinder and water to the reservoir. Just press the 'Grind and Brew' button and you're done. The machine doesn't take long to pour you 16 ounces of delicacy out of it.
In case you want to use your own pre-ground beans, you've got that option too. The DGB-1 has a 'grind off' function for your pre-ground coffee.
The Cuisinart DGB-1 has a removable drip tray to allow you placing bigger mugs., the removable tray makes cleaning much easier for the machine.
If you talk about convenience and coffee quality in a single line, you might be talking about the Cuisinart DGB-1. It's easy to use and with all removable parts, cleaning isn't much of a task. All machine parts are dishwasher safe as well. 
Cuisinart is a brand you can trust your coffee with. That's why the Cuisinart DGB-1 shines as one of people's favorite personal grind & brew coffee makers.
It's highly compact and won't take much of your countertop. All in all it is a great single-serve coffee maker. The 3 years limited warranty makes the claim even more trustworthy and your bet safer.
Pros
Makes 1 cup of coffee at a time
Integrated blade grinder
Convenient to use and clean
Compact and elegant
3 years warranty
Cons
Cuisinart DCC-3200 [ Very Large 14 cup Brew Capacity ]
With its affordable price and multiple features, there is no wonder it is one of the best rated drip coffee maker.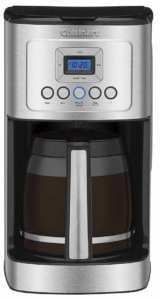 Cuisinart DCC-3200 is your ultimate versatile and programmable drip coffee maker. The machine has a very sturdy stainless steel design with a beautiful handle for the carafe. It lets you experiment with your coffee until you make peace with your best taste. You can adjust everything about your coffee including its strength, heat, and warming plate temperature.
The DCC-3200 has a 14-cup carafe, which is best for large families or offices. What's even better is that you can even turn it into a 4-cup coffee machine at a button's push.
So you can use the 4-cup mode when you need less coffee and the 14-cup to feed a large group. It also informs you when it's done brewing with 5 beeps. You can totally sneak a cup through its drip-free sprout by pausing it while it is still brewing.
With the DCC 3200, you get so much of programmability and control that your coffee can't get wrong. All the controls are right in front with a blue-lit display. Use them to choose either a regular or a bold cup.
You can adjust the warming temperature to keep the coffee warm at your preference temperature for consumption.
If you prefer more strength, you can put in extra grounds in the filter baskets.
The charcoal water filter further enhances the coffee by removing offensive tastes and odors in water. For the coffee filter, you can pick your preference between gold-tone filter or disposable paper-cone filters. However, you can't use thermal carafe with the coffee maker.
The Cuisinart DCC 3200 is yet another auto drip coffee maker. You can set the machine for a brew in advance up to 24 hours. You can also set the machine to shutdown automatically up to 4 hours.
The DCC-3200 is easy to clean. You can wash clean the carafe, lid, and brew basket with hands or dishwater.  It also has a descaling alert to prompt you to perform the periodic descaling for your coffee maker.
Pros
Make 14 cups carafe of coffee
Has 1-4 cup option
3 temperature settings for warming plate
Brew strength control – regular or bold
Programmable auto start brewing up to 24 hours in advance
Programmable auto shutdown up to 4 hours after brewing
Reusable gold tone coffee filter
Charcoal water filter
Cons
Glass carafe is more fragile
Related: Cuisinart Coffee Maker Reviews
Cuisinart DCC-3000
Do you often need coffee-on-demand? That's what the Cuisinart DCC-3000 promises in its tagline. This is a coffee on demand coffee maker with some great features.
An unusual feature of the Cuisinart DCC-3000 is its coffee reservoir. The machine uses a dispenser instead of a carafe.  The machine brews the coffee and stores it in the 12-cup coffee reservoir. This makes it a good coffee maker for a small office.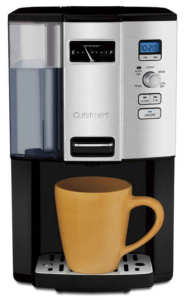 But if you wish to make less than 5 cups, there is a 1-4 cup option. This option is meant to improve the extraction, flavor and brew temperature for a smaller quantity of coffee.
There is also a coffee gauge in the front to let you know how much coffee is left in the dispenser.
Talking about the brewing quality, the Cuisinart DCC-3000 uses a showerhead to ensure water is distributed evenly over the coffee grounds. A reusable gold-tone filter is used to enhance the coffee extraction. A charcoal water filter is used to remove unwanted impurities in the water.
Full Cuisinart Coffee Maker On Demand Review
The DCC-3000 also gives you programming opportunities, Just set the time up to 24 hours in advance, your coffee machine would start brewing you a cup at the specified time. After all, it's coffee-on-demand.
Maintenance of the DCC-3000 is very simple. A light in front would indicate you when it's time to descale the machine. Now to clean it, you don't have to sit and scrub it for long minutes. It's much simpler than that. Just remove the charcoal filter, fill vinegar-water solution in the reservoir, and press 'Clean.' That's it.
So very clearly, the Cuisinart DCC-3000 is designed for convenience. It brews amazing joes and is easy to use and clean. However, the machine has no grinder. But then, it makes up with some amazing features and coffee results.
Pros
Makes 12 cups of coffee
Coffee dispenser
Has 1-4 cup option to optimize brew parameter for lesser coffee brewing
Gold tone coffee filter to enhance coffee extraction
Charcoal water filter to remove impurities
Removable water tank
Programmable 24 hour delay brew
Descaling alert
Coffee gauge to view coffee balance
Can used as office coffee maker
Cons
have to walk over to dispenser to get coffee. Can't move it around like a carafe. Not suitable for serving guests
Ninja CE201 Coffee Brewer
The Ninja CE201 is a very stylish 12 cup coffee maker with amazing extraction capabilities. The stainless steel construction with a subtle mix of black plastic looks all classy. And the versatile coffee maker lets you choose between classic or rich brew.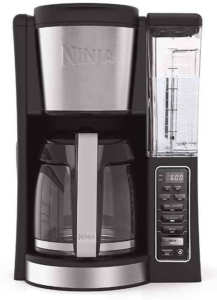 If you wish to make small quantities of coffee, there is small batch button for 1 to 4 cups. Its Thermal Flavor extraction technology automatically makes sure that every batch of your coffee is evenly flavored. An extra large showerhead helps to distribute water evenly over the coffee grounds. Thus, the coffee grounds can get saturated. And you get a coffee extraction.
The Ninja CE201 is a programmable machine that lets you plan your next coffee with up to 24-hour delay. You don't necessarily have to wait for the completion of the brewing process for your coffee. There's a mid-brew pause system which lets you quickly pour a cup when it's still brewing. The machine shuts off automatically in two hours. So you're safe even if you leave it on sometimes.
The Ninja CE201 would keep your joe hot for a really long time. It's got a precision temp warming plate capable of keeping it hot for up to 4 hours. The default duration is 2 hours but this can be adjusted up to 4 hours.
The 60-oz water reservoir in Ninja CE201 is removable and is easy to fill. And, it's got a very sturdy glass carafe which is dishwater safe. So cleaning the machine is easy without any troubles.
The Ninja CE210 is one coffee maker that serves amazingly flavored coffees that aren't any bitter. The thing that you would mostly be proud of is the quality of extraction you get with the machine. And it doesn't skip any of those handy advanced features. Definitely worth a shot!
Pros
Looks very stylish
2 Brew strength options
Able to make up to 12 cup carafe
Has 1-4 cup option
Thermal Flavor extraction technology & large showhead to optimizes coffee extraction
Programmable 24-hour delay brewing
brew pause feature
Warming plate with adjustable duration up to 4 hours after brewing
Cons
Best Coffee Maker over 100 dollars
Breville BDC650BSS – Coffee Maker with built-in grinder
The Breville BDC650BSS is one of the best bean-to-cup coffee machine at this price range. If you want to have truly great tasty coffee, freshness of the coffee grounds is important. And the best way to have fresh coffee grounds is to reduce the time from grinding the beans to using the output. Thus, the presence of an integrated grinder helps you achieve that.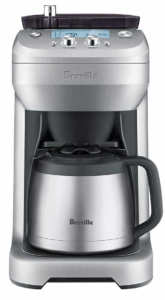 And the grinder is not the cheap blade grinder. It is a burr grinder, offering 8 different grind settings. With different grind size options, you can truly control the strength of your coffee.
If you like strong bitter coffee, set to fine grind size. This increases the surface area in contact with water and in turn increases the coffee extraction rate. A weaker coffee suits you better? Then change to a coarse grind size which leads an under extraction of the coffee.
This breville brewer is truly made for precise coffee making. It gives you control on the water pre-brew temperature. In this way, you can set brewer to heat the water to your preferred temperature before it is channeled to the coffee grounds to extract coffee.
To enhance coffee taste, it also comes with a gold tone coffee filter. But you can opt to use paper filter if you wish to.
To preserve the freshness of coffee beans, its bean-hopper also has a locking mechanism to minimize exposure to air. In terms of capacity, it can pack up to 0.5 pounds of coffee beans, equivalent to 2 full coffee pots for 12 cups.
Although this is a grind & brew coffee maker, it doesn't mean you can only use coffee beans. This coffee brewer also allows the use of pre-ground coffee.
You also get plenty of options for your brew size. Breville BDC650BSS can make you a full coffee pot for up to 12 cups. It also offers you options for 1 single cup. This way you can control the quantity of coffee making room for milk or cream if needed.
Talking about the carafe, this drip coffee maker uses a 12 cup stainless steel thermal carafe. So it would keep your coffee warm for a longer period without disturbing the flavor.
That's a great feature as nobody wants their coffee to be cool and reheating can be harmful to the taste. Despite double walled insulation, the carafe is lightweight to let you pour easily.
The Breville BDC650BSS gives you the very handy programmable autostart. You can program the machine to start at its own at a certain time. It would then grind your coffee, brew you a cup, and shut off when done.
The removable drip tray saves you the discomfort of a mug not fitting under the tray. So you can comfortably use any mug to pour your coffee. Also, the removable tray makes the unit easier to clean.
The coffee maker features a sleek LCD display for ease of access. The display lets you monitor everything with a few buttons. You can check the water level, coffee strength, grinding size, and grind time and brew time here.
Pros
Comes with integrated burr grinder, with 8 grind sizes
8 brew strengths
Bean hopper with capacity for 0.5 pounds of beans
Can use coffee beans or preground coffee
Pre-brew temperature control
Stainless steel thermal carafe
Programmable autostart
Auto shutoff
60 ounces water tank
Sleek design
Easy to read LCD display
Cons
BUNN BT Velocity Brew
The Bunn BT Velocity Brew is a drip coffee maker designed to impress even the most sedate coffee fans. You can't write it off when it comes to power. The 10-cup coffee machine can brew you a full carafe in just 3 minutes. Hence, it would be a wonderful choice for a small office. And, you also get the hot water option for teas and other hot drinks.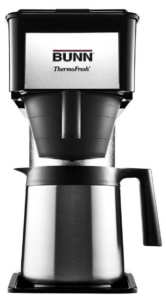 There are many things that are just great with Bunn BT. It's got a very sturdy stainless steel body mixed with plastic. Even the water tank is made of stainless steel.
When it comes to coffee flavor, the Bunn BT is serious about it. With an 800W heater, the machine maintains the water at an optimal brew temperature of 200 degree Fahrenheit water.
It also has a unique spray head design that ensures water is dripped evenly on all the grounds. This results in an amazing coffee extraction. Therefore, you can be sure about the taste.
The 10-cup thermal carafe is sealed, vacuumed, and insulated. This helps keep your coffee all fresh and hot for up to 2 hours.
Although it's not the easiest of the drip machines to use, you'll do fine once you get used to it. The coffee machine would stay on unless you manually switch it off yourself. There is a vacation switch to turn it off for a few days.
Bunn BT isn't about all those fancy features. It's not programmable or automated. But it knows how to brew a great coffee. And it also knows how to keep that coffee fresh and hot for long.
So the BUNN BT is for people who are serious about their joe. The only USP here is the quality of the brew. The brand's quite sure of its coffee maker and offers a 3-year warranty for it. If you're looking for a powerful coffee maker for a small office or a small family, this machine presents a great candidature. So, if you're done playing around, stick to this promising choice.
Pros
Brew up to 10 cups of coffee in under 3 minutes
Can be used as hot water dispenser for teas
Maintains water at optimal brew temperature of 200 degree Fahrenheit
Stainless steel thermal carafe
Cons
Not programmable to auto-start
Zojirushi EC-YSC100


If you want to keep your coffee hot for a really long time, nothing does it better than the Zojirushi EC-YSC100 Fresh Brew Plus Coffee Maker. This thermal coffee maker with a stainless steel plus BPA-free plastic body is average looking but it performs really well.
This coffee machine also let your program brewing to start automatically up to 24 hours in advance. Full of incredible features, this coffee pot makes sure you only get a coffee that's just delightful and too hot to handle.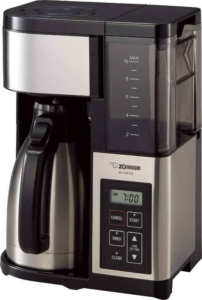 The Zojirushi EC-YSC100 boasts of its custom designed 10-cup carafe which you won't easily find in other machines. This thermal carafe works wonderfully well to keep your coffee hot and tasty all day long. Pouring your coffee is much easier and fun with the thumb activated pouring system. Also, with its drip-free spout, you're always sure that you're not going to spill anything. You can even remove the carafe while brewing.
If you're not a professional coffee maker, you might miss the right temperature. Not with this Zojirushi machine, though. It has the guaranteed brewing temperature would help you reach the perfect temperature without much stress. Use the coffee maker whenever you want, it is always at 200 degrees Fahrenheit for a delicate and fresh brew.
If cleaning is an issue for you before, this machine isn't going to let you down. First of all, the water tank is removable which makes cleaning much easier. Next, both swing basket and filter basket can be lifted up, allowing easy and absolute cleaning.
If you hate keeping track of household chores, this coffee maker will alert you when it is time to perform descaling.
The Zojirushi EC-YSC100 is amazingly easy to use as well. Doesn't matter you're a seasoned coffee maker or a novice, you would operate the machine quite readily. Every system in the machine including its thumb activated pour system, its heating features, etc. are quite simple for anybody.
In a nutshell, the Zojirushi EC-YSC100 is a complete Drip Coffee Maker that's easy to use and clean. It would let your 10 cups brew well and stay hot for long. It's an amazing investment if you can go a bit further with the price.
Pros
Able to make up to 10 cups at once
Can reach a brewing temperature of over 200 degree Fahrenheit
Stainless Steel vacuum insulated thermal carafe – Keeps the coffee hot really long
Thumb activated pouring system for carafe
Programmable auto start brewing up to 24 hours in advance
Auto shutdown
Descaling alerts
Removable water tank
Easy to use
BPA free
Cons
Old fashioned aesthetics
A bit bulky
How Does a Drip Coffee Machine Work?
Other People Also Viewed:
Best Nitro Cold Brew Coffee Maker
Which Is The Best Drip Coffee Maker?
Drip coffee makers come in many different packages targeting different consumer profile. You can't just pick a machine and declare it the best ever.
There are various factors affecting whether a machine works for you or not. So which is the best drip coffee maker should you buy? That's to be answered by you. But we'll let you know how to reach a conclusion. We hope this review has been helpful in arriving your decision. Happy dripping!