Do you have those sudden moments when you wish you can have a cup of rich latte or cappuccino at home? Then it's time to get a coffee machine that also can texturize your milk for your latte. Keep reading this post to find out which is the best coffee maker with milk frother or steamer for your home. 
Why Get A Coffee Maker With A Milk Frother Or Steamer?
If you are not exactly sure if you should get a coffee maker with a milk frother or steamer attached, consider if you want these benefits:
1. Foamed milk
The main reason for having a milk frother is the milk foam it produces. The milk you use gets foamed by shaking and heating the milk. This process introduces texture and air into the mix to produce a foamy milk. This foamed milk is perfect for drinks like lattes and cappuccinos, giving you mouthful of flavor.
2. Consistent heating
Electric milk steamers are an excellent way to heat milk without scalding or burning it. You definitely want to avoid burnt milk as they taste really bad. But with a milk steamer, you can consistently heat the milk to just the right temperature.
3. Functionality
If you love making different beverages at home, then the milk frother is something you should have too. Since its primary purpose is warming milk, you can use the milk to make hot milk chocolate. So yes, it is going to be a useful tool to have in your home, even if it is not for making foamy latte and cappuccino.
4. Affordability
Since you are already buying the coffee maker, you might as well get one with a milk frother or steamer. This will enable you to make milk-based drinks and save you money from having to buy from the coffee joints.
Differences between a Milk Steamer and Frother
One thing to note though. Milk steamers and milk frothers are different. If you are new to milk frothing, both can look the same. But there is actually a difference!
While both heat milk using a steam wand, the milk frother injects air into the milk and this air is what you use to create a foamy layer.
So which one is better? It depends what you wish to make. If you want to make a latte, a milk steamer is much better. If you're going to make a cappuccino, then a milk frother will be a better option.
And in this post, the coffee makers shortlisted come with both steaming and frothing capabilities.
Top 3 Best Coffee Makers with Milk Frother
#1 Keurig K-Cafe Coffee Maker
If there is one name that is quite popular with practically every coffee enthusiast, it is Keurig K-Café. It acts as a single-serve latte, cappuccino, and coffee maker. This coffee maker is also compatible with any K-cup, and this really gives you a variety of beverage options when brewing your coffee.
You can also brew a concentrated shot of coffee in Keurig to create a strong creamy cappuccino or latte.
Integrated milk frother
One good thing about this frother is that you don't have to hold the milk pitcher to the milk frother. Just pour the milk into the frother and it will do its job. When it's done, just pour the frothed milk over your coffee. So it's kind of semi-automatic.
In addition, you even have option to make hot or cold milk.  Now, you can choose to drink a cold latte if that's what you like.
And best of all, the frother is dishwasher-safe. This means easy cleaning for you.
Other Highlights of this Keurig coffee maker with milk frother inbuilt
Smart start: This smart start feature enables you to heat and brew coffee in a single process. You no longer have to take time waiting for it to heat up before you can select your desired cup size. This, in turn, helps simplify your brewing process and save you from waiting around.
Energy efficient: Keurig K-café also comes with an energy-saving feature. This function turns off the coffee maker automatically two hours after your last brew.
Huge water tank: It can hold up to 60 ounces of water, enough to brew at least 6 cups of coffee before you need a refill. If you hate refiiling, this is a great benefit for you. Also, the water tank is removable and quite easy to clean and refill.
Can fit large mugs: This coffee maker has a height of 7.2 inches. The height allows it to accommodate large travel mugs of different heights without spilling coffee on the floor.
Related:
Best coffee makers with travel mugs
You can use coffee beans or grounds: Do you like trying out different coffee grounds? Or you like using coffee beans? With the K-Café, you can use your favorite coffee beans or ground.
#2 DeLonghi BCO430BM with Frothing Wand
There is nothing quite good like having a coffee maker combined with an espresso machine at the comfort of your home. And Delonghi BCO430BM is such one of those coffee espresso combo machines.
Now you can make both espresso as well as a carafe pot of coffee. And with the milk steam wand, you can also make latte and cappuccino.
Manual frother
What you get here is a manual milk frother. So you have to hold the milk pitcher to the milk steam wand to froth your milk. However, that gives you control over how you can texturize your milk. If you are into that, then it is great for you.
Other Highlights of this Delonghi coffee maker with steam wand
Programmable timers: BCO430BM is a coffee maker with programmable timer. This feature gives you the ultimate convenience as you can program the coffee maker to brew automatically up to 24 hours in advance. You can also auto-shut the coffee maker at a specific time when it's not in use.
Dedicated Water filter: The DeLonghi BCO430BM has a dedicated water filter that allows you to filter impurities from the water before it is used for brewing coffee. Since water is a key ingredient to brewed coffee, this can make or break the coffee taste.
Brew Pause Feature: This allows you get to have a quick cup of coffee if you can't wait for the brewing to complete.
Front-loading system: Both coffee and water reservoirs are accessible from the front. So you can easily place them under the cabinet.
Related:
#3 Mr. Coffee One-Touch CoffeeHouse Espresso Maker and Cappuccino Machine
If you simply want true authentic latte, this coffee maker will probably be a better choice for you. It comes with a 19-bar pump which is more than enough to deliver the optimal high pressure required to extract espresso with a crema.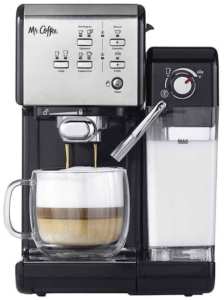 Automatic Milk Frother
And even better, this coffee maker comes with automatic milk frothing. It not only steams and froths the milk automatically. It also delivers the frothed milk to your espresso automatically.
That means you are making latte or cappuccino automatically with a touch of the button.
Related:
Other Highlights of this Coffee Machine with automatic Milk frother
3 Thermo-Couple Heating System: This heats up water faster and more uniformly, ensuring the water reach the ideal brew temperature for an optimal espresso extraction.
Self cleaning cycle function: This offers you a one-touch self cleaning of the water tracks. This step helps to clean the scale built-up in the tracks. This prolongs your machine lifespan and also ensures the coffee taste quality.
4 Key Factors to Consider when getting the a Coffee Machine with Milk Frother
Your choice of coffee makers with milk frother/steamer depends on your needs. Nevertheless, we think there are 4 key factors which you should absolutely consider.
1. Milk texture
If you want to make sweet and silky texture milk like the kind found in a coffee shop, you need to create milk foam. This means you will have to introduce heat and air to the milk. Therefore, make sure you choose a milk frother that combines both functionalities.
2. Multi-serving or single serving
Milk frothers normally comes with espresso machines. However, if you need to serve a large family of coffee lovers, consider espresso coffee combo machines like the Delonghi BCO430. They can make you milky latte and also a large pot of coffee.
3. Automatic Frothing or Manual Frothing
Not everyone likes to froth milk manually. In this case, consider getting coffee makers with automatic frothing instead, like the Keurig K-Cafe .
4. Ease of cleaning
The more complicated the frother is built, the more difficult is the cleaning. This is because milk can easily get into small spaces and crevasses, and cleaning can end up becoming a chore. And, if you do not clean the coffee maker properly, everything will start smelling like sour milk. And if you like to take convenience to the next level, consider those having frothers with self cleaning function, like the Mr Coffee OneTouch
At the minimum, make sure you choose a coffee maker with milk frother/steamer that is easy to take apart and also dishwasher safe.
Is A Separate Standalone Milk Frother Better?
This depends on what you are using the milk frother for. If you are using just for your latte, then it's better to have it integrated since it will use the pressure from the espresso maker for the steam.
But if you wish to use it for other drinks like milk chocolate. Perhaps a separate standalone milk frother is better since you can make more drinks without getting the coffee machine dirty accidentally.
Also, you can really get to have more functionality compared to a milk frother that is not a separate standalone. If you like a separate milk frother, consider the Breville Milk frother. It even has adjustable temperature options, including an option to create "cold stir" milk.
Which is the Best Coffee Maker with Frother to buy?
All the 3 coffee makers mentioned are good options. Which one to choose depends on your needs.
If you ask me, I prefer the Keurig K-Café as I love the variety of K-cups available. There are over 400 taste variety including other beverages types such as hot cocoa and tea.
It also allows me to make cold latte, which I really love after a hot day outside.
The automatic frother appeals to me as I'm not really into the frothing. I just want to drink a nice cup of latte. 
The nice thing about this frother is that it is basically a cup with a whisk inside. So it's really easy to clean.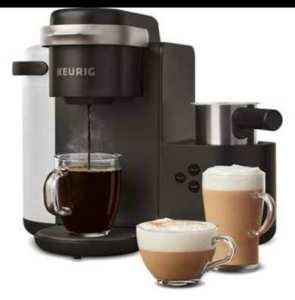 So, for me, Keurig K-Café is the best coffee maker with milk frother.