There are different ways to customize your coffee. And, every coffee lover has a list they follow to ensure their coffee turns out just perfectly. Despite having different ways to customize coffee, one factor is standard across the board. And, that is temperature.
Temperature dictates the flavor and aroma of your coffee. If your water is colder than the recommended brewing temperature, your coffee grounds will not dissolve. If it's hotter than the average temperature, the coffee grounds will dissolve its delicious flavor, and you will have a tasteless cup of coffee.
However, trying to achieve that perfect balance can be a challenge without the right tools. And, this is what makes coffee makers with temperature control, a must-have for every coffee enthusiast.
Why do we need a coffee maker with temperature control?
There are two reasons why you should purchase a coffee maker with temperature control.
Control the coffee taste
As I mentioned earlier, the water temperature you use to brew coffee dictates its taste and flavor. Having a temperature control coffee maker allows you to stay between 195-205 degrees Fahrenheit for the best flavor extraction.
To counter the effects of High Altitude
This is not so obvious if you don't stay on high altitude. Altitude controls the boiling point measure of water. It is common knowledge for water to boil at 212 degrees Fahrenheit. But you may not know is that it doesn't boil to this level above sea level.
Having a temperature control coffee maker allows you to adjust the brewing temperature.
3 Key Factors to Consider when Buying a Coffee Maker with Temperature Control
1. Temperature control:
The exact temperature range varies depending on the coffee maker. Some machines will allow you to set the temperature, while others will have preset options for you to choose from. SCAA certification  may also be useful since it indicates that the temperature range is in accordance to SCCA standards.
2. Flow rate
The flow of water is essential when it comes to creating your coffee flavor. Therefore, make sure you look for a coffee machine that not only provides one flow rate option but numerous options as well.
3 Speed
We all have mornings where we cannot wait for the coffee to finish brewing. Having a fast brewing coffee maker ensures you never miss your morning coffee fix again before rushing to work.
Best Coffee Makers with Temperature Control
#1 Breville BDC450 Precision Brewer
Believe it or not, the Breville brand started by manufacturing a sandwich toaster, which became quite popular with many homes across the world. But over the years, they began to expand their manufacturing by developing espresso and coffee machines.
And this Breville BDC450 Precision Brewer is really unlike the typical coffee machines you see in the market. If you are interested in having control over the coffee taste, this machine offers many great features that do just that. The combination of control over water temperature, its flow rate, and its 'steep-and-release technology' allows you to get a high quality coffee.
Key Features of the Breville Breville BDC450 Precision Brewer
Large Brew Capacity:  This coffee maker has a large brewing capacity and can handle 60 ounces or 12 cups. It's great if you have a large family who are particular about coffee taste.
Temperature control: To get great flavorful coffee, you have to control the coffee maker's temperature, contact time, and flow rate. The Breville precision brewer has a proportional integral derivative or PID digital temperature control, which allows you to adjust the temperature more precisely than other coffee machines. The water temperature ranges between 197 to 204 degrees.
Pump With 3 flow rate options : This coffee maker also comes with a pump that allows you to select its flow rate from three available options. Choosing the right flow rate for your coffee enables the coffee maker to optimize contact time for your ground coffee.

Steep-and-release technology: This is another brewing detail that is designed to help improve your coffee brewing experience. The steep-and-release technology works by holding the release of water in contact with the coffee grounds when small volumes of coffees are selected without the carafe.
Small cup detection: Precision is vital with this coffee maker. And, with the small cup detection, you can control coffee and water contact time, especially when brewing single-serve coffee or when making a cold brew.
Dual filter baskets: This coffee maker has both a cone and flat-bottom filter basket, which allows you to brew any amount of coffee the way you like it, without worrying about having a different taste or flavor.
Stainless Steel Thermal Carafe: A stainless steel thermal carafe can keep your coffee warmer for a longer time. You can also avoid breakage compared to a glass carafe.
Video of Breville BDC450 Precision Brewer in action
 Pros
Allows control over brewing parameters to control the quality taste
Comes with six different brewing options
Stainless steel components
Elegant design
Cons
The dimensions of this coffee maker can prove to be quite a challenge to place under the cabinet
Related:
Under the Cabinet Coffee Maker
#2 Keurig K-Elite Single Serve Coffee Maker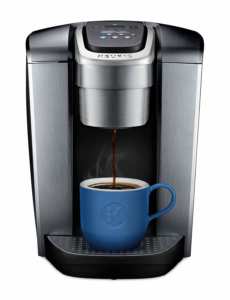 Keurig is a well-known manufacturer of single serve coffee maker. It is also the inventor of the K-cup pod system which make brewing coffee no longer a messy affairs.
If you hate dealing with messy coffee, Keurig K-Elite is one good option to consider.
Key Features of Keurig K-Elite
Temperature control: Its brew temperature has been preset for the optimal coffee taste. However, there is the option to adjust the temperature between 187 – 192 degrees Fahrenheit.
Quiet brew technology: If you hate the noise coffee machines make when brewing coffee, then the Keurig K-Elite machine has got you covered. Its quiet brew technology minimizes the noise it makes when in use.
Fast Brewing Time: It brews coffee in under 1 minute.
Large removable water reservoir: This coffee maker has a large water reservoir with a capacity of 75 ounces. With this capacity, you can comfortably make up to eight coffee cups without refilling the water reservoir again.
Related:
Coffee Maker with Removable Water Reservoirs
Programmable Timer: This is a a coffee maker with programmable timer. You can program it to power on and off automatically.
Ice Coffee Function: For those who like ice coffee, this is a great feature to have.
Descaling Alerts: This frees you the chore of tracking the last time you do your descaling. With the machine prompting you, you can be sure that you are up to date with the periodic maintenance of your coffee machine. Regular descaling helps to remove the build up of scale due to heating. With prompt maintenance, you can prolong your machine lifespan and ensure no impurities affecting your coffee taste.
Travel Mug Friendly: The drip tray is removable to accommodate taller mugs up to 7.2 inches.
Hot Water On Demand Function: This function is useful if you like to have hot water to make tea or cereal.
Related:
Best Coffee Maker with hot Water Dispenser
Pros
Simple Controls
Brews fast
Quiet Brewing
Descaling alert
Travel Mug-Friendly
Ice coffee option
Large water tank
Able to use K-cup and coffee grounds
Cons
One of the biggest flaws most consumers have with this coffee maker is that you only have to use the K-Cups and nothing else.
#3 Cuisinart DCC-3200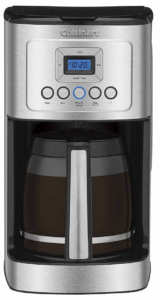 Cuisinart DCC-3200 is another great option to consider. It not only has a functional design, but it is also genuinely easy to use.
Unlike other traditional coffee makers, the Cuisinart DCC-3200 has an adjustable temperature control feature that allows you to choose how hot you want the hot plate to be. Selecting a higher temperature keeps your coffee warm for a longer time while selecting a lower heat setting prevents your coffee from having a scorched taste when brewing small amounts of coffee.
Key Features of Cuisinart DCC 3200
Large Brewing Capacity: DCC3200 can make up to 14 cups in a single carafe. If you have a really large family of coffee lovers, this is great to have
1-4 cup option: Besides making a carafe, you also have the option to make smaller quantities with this option.
Related:
single cup and carafe coffee maker
Innovative heating technology: The technology this coffee maker uses for its water heating system ensures the water is extra hot during the entire brewing process. This means your coffee will remain hot longer, without impairing your coffee's flavor during the whole process.
Brew strength options: With this feature, you get to choose from bold and regular brew options. And with whatever choice you make, at the end of the brewing process, you get a more aromatic flavorful cup of coffee.
Auto-Brew: Using this feature, you can easily set the coffee machine up and pre-program its timer to start the brewing coffee anytime within 24 hours. And, if you are not a morning person, this can work to your advantage, as you will always wake up to a hot brewed cup of coffee.
Auto Shutdown: It also comes with the auto shut off feature. You can program the coffee maker to shut down immediately after you finish the brewing process or after four hours of last use.
 Pros
Comes with water filters
Simple to use
Affordable price
It is dishwasher friendly
Cons
It's more steamy compared to other coffee machine models
Which is the Best Coffee Maker With Temperature Control?
Personally, I like the BDC450 Precision Brewer the most. For one, it is made up of almost entirely stainless steel and that really gives it an elegant look.
Besides the asthetic, the great control over the brewing process such as the water temperature and water flow rate is another plus. It also has other great features to achieve a quality coffee brew, such as its 'steep-and-release technology' and small cup detection feature.
I also like that it is able to brew a large capacity of coffee in a single carafe. And I do like a stainless steel thermal carafe more than a glass one since it can keep the coffee warmer and less prone to breakage.
I hope this post has helped you pick the coffee maker with temperature control to buy.