Do you need a coffee maker with grinder? One which can serve from a single cup and up to a carafe of coffee? Do you want the carafe to be thermal stainless steel? Keep reading this Breville Grind Control review to find out more if it is the right coffee maker for you.
Breville Grind Control Review: Who it is for?
Breville Grind Control ( model no: BDC650 ) is a coffee maker with grinder built-in. As you know, the best coffee is made directly from freshly grind coffee beans so as to minimize the effects the surrounding air has on the grinded coffee. 
With an integrated grinder, you can now grind and brew on the same machine without exposing your grinded coffee to the atmosphere.
This non-exposure is ensured with the locking mechanism in the bean hopper. With this locking mechanism, you can also keep coffee beans leftovers in the hopper without risk of it turning stale.
This grind and brew coffee maker is suitable for single person use or for a family. This is a dual coffee maker that can serve single cup of coffee or a carafe of up to 12 cups of coffee for a large family.
7 Benefits of Breville Grind Control BDC650BSS Coffee Maker
1. It has a high quality grinder
Brewing directly from fresh coffee beans is sure crucial to making a great coffee.
But another aspect not to be neglected is that uniformity in the grind size for all the ground coffee particles.  This is because inconsistent grind sizes will result in hot water flowing in the path of least resistance. Thus, the water will not flow over the entire coffee ground to get a balanced and full flavor extraction.
The good thing is that the grinder on this Breville Grind control has very good precision machined burrs made from stainless steel.  This means it can ensure that you get consistency in the ground coffee particles.
2. The grinder has 8 settings
It is good that you have an excellent grinder. However, the control over the grind size is also a must have. This is because different grind sizes give you different type of coffee taste.
And this grinder comes with plenty of options. There are 8 settings which you can use. And from experience, the 2nd and 3rd settings produce the most aromatic coffee which I personally like.
3 You can control the pre-brew temperature
The water temperature can also affect the coffee taste. This Breville BDC650BSS comes with pre-brew temperature control. This allows you to have control over the water temperature before it starts soaking your coffee grounds.
This is great for those who like to vary their coffee taste by playing around with the pre-brew water temperature.
Related:
Coffee Makers with Temperature Control
4 It comes with a Steep & Release Techology
This coffee maker can make both single cup and carafe of coffee. So how does the coffee maker ensure that you get a coffee with balanced flavor profile. The key is its "Steep & Release Technology".
With this technology, the taste and strength of your coffee remains the same regardless of whether you make just one cup of coffee or a whole carafe of 12 cups.
This is a good feature as I make carafes of coffee regularly.
5. It has a great design and a beautiful LCD screen
The design itself tells the tale of a plethora of functions and hence the sturdy and somewhat bulky exterior to withstand the commotion.
The grinder burrs away at the task of grinding roasted coffee beans, the boiling and brewing follow after which the carafe is filled for distributing the hot aromatic brew.
These functions are conveniently controlled from centralized and clearly displayed menus that respond to the push of attractive buttons. Design and functionality fit together perfectly.
And the stainless steel exterior including the carafe sure gives this Breville Grind Control a really elegant look.
6. It is very convenient in cramped spaces
This multi-functional unit is just right for places where space is at a premium especially in a small office or apartment space or small private study where grinded and brewed coffee is a must have. The silent burr of the grinder would be a plus in these confined spaces. Some may say it can be a little noisy but is this such a big issue if it doesn't disturb unduly and that fantastic coffee comes out at the other end?
7. Easy to operate
There are no problems in using this Breville coffee maker even for the new user. You simply pour whole roasted beans into a miniature hopper at the back of the machine, load water from the front into a container, select the strength of the coffee drink and just let the machine do the rest.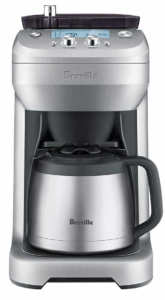 Key Specifications of Breville BDC650BSS Grind Control Coffee Maker
8 Grind size setting – use this to control your coffee taste
Coffee bean hopper with 0.5 pounds capacity– comes with a locking mechanism which makes it easy to remove for storage and cleaning
Comes with a pre-ground coffee option – if you want to go decaf, simply put your favourite decaf ground coffee using this option.
Can make single serve and up to 12 cup carafe.
Travel mug-friendly – Drip tray is removable to accommodate up to 7.5 tall cups
Beautiful LCD Screen – Gives you complete information on the grind size, grinding time, water level, brewing time etc.
Programmable Auto Brew – Set the brew time before you sleep and wake up to a freshly brewed coffee when you wake up.
Pre brew Temperature Control – Gives you control over the water temperature before it saturates the coffee grounds.
Stainless Steel Thermal Carafe – Keeps the coffee warm longer. Not prone to breakage and no risk of scalding as compared to glass carafe
Large water tank capacity of 60 ounces
Compact : measures 9 inch (W) X 14 inch (D) X 16 inch (H)
Other People Also Viewed:
Best 12-cup coffee maker with thermal carafe
Breville Precision Brewer Review
Video of Breville Grind Control Coffee Maker in action
Breville Grind Control Review: Should I Buy This Coffee Maker?
If you are looking for a quality coffee maker with a grinder, this is a great option to consider. It is easy to use, durable, grinds and brews great tasting coffee consistently.
It also has a large capacity thermal carafe that keeps your coffee hot. It also has an auto-start function which allows you to preset what time it should automatically brew your coffee.
Best of all, it comes with pre-brew temperature control & its "steep & release" technology which help to give you better coffee. And I must say that it looks elegant and will be a great piece to put in your kitchen.
The price may seem a bit higher than the normal coffee makers. But with such a high quality grinder, I must say it is actually a steal instead. Hope this Breville Grind Control review has helped you to make the decision to buy already.