Do you need to brew coffee for a large family? Does your family wakes up at staggering times in the morning? Do they simply have to have their coffee fresh and piping hot? Keeping reading this post on the best 12 cup coffee makers with thermal carafe to address your needs.
Why Get a 12 Cup Coffee Maker with Thermal Carafe?
Large Brewing capacity
For those who have a large family of coffee lovers, it can be too much of an effort to brew in 2 or even 3 batches with smaller 4 cup coffee makers in the morning. I would prefer to brew 12 cups of coffee at once and move on to prepare breakfast for my family.
Keep Coffee Warm
Having to prepare a large carafe of coffee is one thing. However, if your family members just can't wake up at the same time, the coffee brewed is going to turn cold and not everyone likes to drink cold coffee in the morning. Besides, cold coffee tastes really stale. A thermal carafe is absolutely needed in this scenario.
5 Key Factors to Consider When Buying a 12 Cup Coffee Maker with Thermal Carafe
1. Brewing Capacity Options
It's great to have the required 12 cup brewing capacity. But you may not need to make 12 cups every day. Or perhaps you need a quick single serve when you are the only one in the house.
It will be ideal for the same coffee maker to be able to make other brewing capacities, anything from a single cup to 12 cups.
Related: Best Coffee Maker with Single Serve Option
2. Brew-pause Feature
Brewing a 12 cup carafe  can take some time, as compared to making a single cup. Having a Brew-Pause feature can allow you to have a quick cup in mid-brew, to keep yourself alert while making breakfast early in the morning.
3. Integrated grinder
Every coffee purist appreciates an excellent cup of coffee made from freshly ground beans. Having a built-in grinder in your coffee maker ensures that you have your mug of coffee brewed with freshly ground beans for a high quality coffee taste.
Related: Best Coffee Maker with Grinder Review
4. Size
12 cup coffee makers tend to be bigger compared to smaller machines like 5-cup coffee makers. If space is a constraint, do check the dimensions carefully to make sure they fit.
Also some parts like coffee filter and water reservoir could be accessible only from the top. If you want a under the cabinet coffee maker, do consider the height clearance too.
5. Programmable Timer
Making breakfast for a large family can be tiring in the morning. So it will be nice to program the coffee maker to start brewing in the morning automatically on the night before you sleep. And it will be even better for the coffee maker to automatically shutdown when it is done brewing. So you don't have to bother about coffee brewing in the morning!
#1 Black+Decker CM2035B 12-Cup Thermal Coffee Maker
Who doesn't love hot coffee? And, this is what the Black & Decker 12-cup thermal coffeemaker offers. The stainless steel 12-cup thermal carafe coffeemaker is vacuum-sealed to ensure that your coffee stays hot for close to two hours. Its 12-cup capacity makes it quite easy to cater to the coffee needs of your large family.
Key Features of Black+Decker CM2035B
Digital controls: No matter how tired or moody you are every morning before taking your cup of coffee, this coffee maker makes it quite easy to make your morning cup of coffee with no problems. The digital control functions make it possible for you to wake up to a refreshing, aromatic pot of coffee with no struggle at all. All you have to do is use the auto brew and shutoff function to get your cup of coffee.
Perfect pour spout: Do you hate spilling your coffee all the time? Well, with the Black and Decker coffee maker, this is no longer a problem. Its perfect pour spout is designed to eliminate annoying drips by giving you an ideal stream of coffee with no splashes or drips. This allows you to keep your mug and countertops clean even with a full cup.
Evenstream showerhead: Every coffee enthusiast can tell you that the aspects that make coffee great are not just its aroma but flavor as well. With its evenstream showerhead technology, this coffee maker can evenly dispense water over the coffee grounds. This helps you extract maximum coffee flavor.
An easy to clean wide mouth: There is nothing quite devastating, like not being able to clean your coffee maker easily. Not cleaning your coffee maker completely may lead to growth of bacteria, and cause you stomach problems. But with this coffee maker wide mouth, you can clean it with no-hassle after use.
Sneak-a-cup feature: This is a feature that allows you to stop the coffee flow temporarily. You can quickly pour your first cup of coffee for the day before the brewing process ends without spilling or making a mess.

 Pros
Comes with a sturdy stainless steel thermal carafe that makes it withstand a drop on the floor with no dents
quite easy to clean
Makes a good coffee brew
Cons
The thermal carafe can be heavy
#2 Cuisinart DCC-3400 12 Cup Thermal Carafe Coffeemaker
If you think you can't get a thermal carafe coffee at a generous budget, well think again. Cuisinart specializes in offering every coffee enthusiast a highly efficient machine they can use to brew coffee at any time. Its 12-cup thermal carafe ensures that everyone gets a cup of coffee despite having a large family.
Key features of Cuisinart DCC-3400
Programmable Timer: The Cuisinart DCC3400 coffeemaker comes with a programmable timer. You can easily program it to brew automatically in advance for at least 24 hrs. It doesn't matter whether you want a cup of coffee during the day or night; this programmable feature ensures that you get to enjoy a flavorful cup of coffee at any time of the day.
Brew strength control: Every coffee lover knows just how vital your coffee flavor is. And, this is something that differs for every coffee enthusiast. But, with the brew-strength control, you get to choose between a bold or regular coffee flavor.
Brew pause feature: Have you ever been in quite a rush, and the only thing keeping you in the house is brewing your cup of coffee? With the Cuisinart coffee maker, you no longer have to wait to get your coffee fix. Just hit the brew-pause, fill your mug with coffee, and enjoy your day. This feature allows you to pause the brewing cycle for a cup of coffee.
60-second Reset: This is a setting not commonly found in coffee machines.This feature enables this coffeemaker to recall its position and settings during the brewing process in the event of a power loss.

Pros
Programmable Auto-Brew
Has a brew-pause feature
Has an easy-to-view water window that lets you fill the coffeemaker accurately
Cons
Most users complained that getting the last drops of coffee out of the coffeemaker can be more of a chore.
#3 Breville BDC650BSS 12 Cup Thermal Carafe Coffee Maker with Grinder [ Highly Recommended]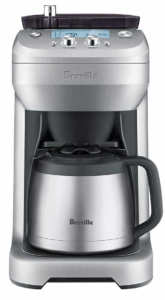 Breville is not only known for its high-quality appliances but also its coffee makers. This makes it the go-to for almost every coffee lover.
Key Features of Breville BDC650BSS 12 Cup Thermal Carafe Coffee Maker with Grinder
High Quality Burr Grinder: What you get here is a grinder with stainless steel burrs made with machine precision. What it means is that you can have consistency in the sizes of the ground coffee particles. And why is this important? Inconsistent particle sizes lead to hot water flowing in the path of least resistance. Thus the hot water can't properly saturates the coffee grounds to get the optimal flavor extraction.
8 Grind size options: Different grind size gives you a different coffee taste. This will gives you more options to experiment with the coffee taste.
Pre-Ground coffee option: Perhaps, you may also like to try other brand of ground coffee at times.This option allows to use ground coffee.
Steep & Release Technology : this Breville technology enables you have both carafe & single brewing in just one machine, without affecting the coffee taste.  Whether you are making just one cup or a whole carafe of 12 cups, this technology will adjust to ensure that you get a balanced flavor profile.
Pre-brew Temperature Control:  The temperature of water before it soaks the coffee grounds can determine the kind of coffee taste you get. Not all coffee makers allows you to control this temperature. But Breville Grind Control gives you that sort of control with this feature.
Programmable auto-brew: Another feature worth mentioning is its programmable auto-start feature. This is an excellent feature for anyone who loves their coffee perfectly hot and brewed early in the morning before getting to the kitchen. All you have to do is program the coffeemaker to start brewing and grinding at a particular time.
Auto Shut Down: The coffeemaker automatically shuts down after the last brew. Together with the auto-brew, you can really have a hand-free coffee making in the morning.
Travel Mug Friendly: There is nothing quite annoying than placing your mug under the drip and realizing that it's too tall to perfectly fit under the coffeemaker. This forces you to end up using multiple cups or a smaller cup to satisfy your craving. The removable drip tray feature allows you to fit your tallest mugs comfortably under the coffee drip.
Stainless Steel Thermal carafe :  The one disadvantage of most coffee machines is that they do not keep coffee for long. But thanks to the stainless steel thermal carafe, you can keep your brewed coffee at the right temperature for a long duration, allowing you to enjoy your flavorful cup of coffee without reheating it all the time. The carafe has thick insulation that ensures your coffee remains warm longer.
Intuitive Colored LCD screen: The LCD really makes the coffee maker look really good. More importantly, it also shows you real-time feedback on the water level, grind size, strength selection, and brewing and grinding time of your cup of coffee.
Large water tank : It can hold up to 60 ounces of water.
 Pros
It has a sleek design
Comes with high quality burr grinder integrated
8 Grind size options
Can use pre-ground coffee option
Programmable auto brew
Able to fit 7.5 inches travel mugs
Stainless steel thermal carafe
Large water tank of 60 ounces
Cons
More expensive, given the more sophisticated brewing technology & integrated burr grinder
#4 Keurig K-Duo Plus Single Serve and 12 Cup Thermal Carafe Coffee Maker
Keurig K-Duo Plus has separate sides to brew a single-serve and carafe cup of coffee. It also allows you to use ground coffee on its single serve side with its reusable coffee filter.
Key features of Keurig K-Duo Plus Single Serve and 12 Cup Thermal Carafe Coffee Maker
2 Way coffee maker:  This functionality helps you avoid wasting coffee, as you can make coffee depending on the number of people you want to serve. When you are alone, you can use the single-serve side. And, when your family is at home, you can use the carafe feature and make a full coffee pot for your loved ones.
Programmable Auto-Brew: This feature allows you to set a timer for your brewer to immediately start making coffee when the time approaches. With this programmable feature, you have one less chore to do while getting ready for a busy day.
Multi-position & Removable large water tank: It can be quite a chore to refill water tank. Thankfully, K-duo has a large water tank which is also removable. This means less refilling and also easy refilling since you can bring it to the tap for refill. What's unique, however, is that its water tank can be adjusted to fit either the back or sides of the coffee maker. This makes it easy to fit this coffee machine to any corners.
Stainless Steel thermal carafe: As mentioned earlier, thermal carafe helps retain the heat of the coffee better. But its steel feature makes it less prone to breakages, as compared to a glass carafe.
Pause brew: This feature allows you to pause the brewing process for at least 20 seconds to grab a hot cup of coffee before the brewing is complete.
Button controls: You do require a manual to navigate this coffeemaker. With its simple button controls, you can easily save time and avoid frustration, especially during a busy day.
 Pros
Multi-position & Large removable water reservoir
Able to make 12 cup carafe and single cup
Can use k-pod and ground coffee for single serve side
Programmable auto-brew
Stainless Steel thermal carafe
Cons
Other People Also Viewed:
Best Coffee Maker with Thermal Carafe
Which is the Best 12 Cup Coffee Maker with Thermal Carafe to buy?
With all the four available options, choosing one coffee maker can be tough. But we have a winner.
And the winner is……drum rolls please, the Breville Grind Control. The one thing that sets it apart from the other three is its integrated burr grinder and the control over the brewing parameters it offers. 
Besides, it looks really elegant with full stainless steel exterior.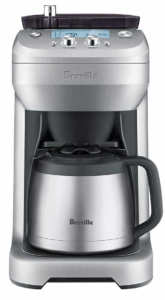 However, before choosing a coffee maker, make sure you select one that suits your needs.