At EMP, we research on espresso makers, compare the different models and review them. Why do we do that? To provide a good guide to help you find the best espresso machine for home use. These espresso machine reviews are designed to provide a balanced view by looking at both the pros and cons of the coffee maker.
Find the Best Espresso Maker by Price
Do you have a budget? No worry. The prices of espresso machine cover a wide range, going from under $50 to over thousands of dollars. The differences in prices also mean differences in the quality of espresso produced, types of espresso drinks that the machine can make, and the types of features in the machine.  Here are the different categories of price ranges for every budget.
For those on tight budget but want better features for the machine.
But is okay with inconsistency in quality of espresso from cup to cup.
For those who want better consistency in the quality of espresso.
Additional features include pre-infusion process, in-built grinder.
Best Espresso Maker Under 1000 
For those who want advanced features to make a great espresso shot.
Some advanced features include PID temperature regulator, dual boilers, preheated brew head etc.
Find the Best Espresso Maker by Brands
Some people have certain preferences when it comes to a particular type of product. They could have a higher trust for a certain brand than others due to a history of good experiences using products from the brand. It could also be a result of reading or hearing wonderful things from friends or online forums.
In the world of espresso machines, there are also some brands which stand out from the rest. And here are some of the most well-known brand names in espresso machine industry.
Well, now is the time to choose the best espresso machine reviews by brand.
Gaggia
This Italian company is founded by Italian Achille Gaggia in late 1930. He can be considered the founder of modern espresso machines with his introduction of a piston mechanism in the espresso maker. This mechanism enables the delivery of the optimum pressure for espresso extraction. Check out this elegant entry-level superautomatic espresso machine from Gaggia: Gaggia Brera Review
Mr Coffee
This American company has been making coffee machines since 1970. It started off making coffee machines before moving into espresso makers. Its espresso machines are occupying the lower price spectrum of espresso makers.  One of this machine Mr Coffee Cafe Barista has been a best seller on Amazon. Check out the  Mr Coffee Cafe Barista Reviews
Delonghi
Based in Italy, Delonghi is an brand with a long history dating back to 1902. It started off making heaters and air conditioners. Eventually, it expanded into many household electrical appliances categories, including a range of espresso machines. Known for the design for its products, we also see this strength in their espresso makers which are elegant and also easy to use.
Check out the reviews for these great Delonghi models:
Best Cheap Espresso Machine :  Delonghi EC155 review
Best Inexpensive Espresso Machine : Delonghi ec702 review
Best Budget Espresso Machine : Delonghi EC860
Best Automatic Espresso Machine : Delonghi Lattissima Pro
Best Super Automatic Espresso Machine : Delonghi esam3300 Magnifica
Best Cappuccino Maker : Delonghi esam3500
Nespresso
This is a Swiss company well known for its patented coffee capsule system. It offers more than 20 different coffee tastes for its capsules. Occupying the low to mid price market, all its espresso machines are pod-based machines, making them very convenient expresso makers to use.  Here is a side by side comparison of the best Nespresso Machine reviews.
If you like to make both coffee and espresso with one coffee maker, check out the Nespresso Vertuoline reviews
Breville
Founded in 1932, this Australian company started with sandwich toaster and eventually moved into many small kitchen appliances categories, including espresso makers. Known for its design, it makes some of the best mid-range machines with affordable pricing. Check out the Breville infuser review and Breville bes870xl review
Differences between the 5 Different Types of Espresso Makers
There are so many espresso makers in the market. Nevertheless, they can classified into 5 main groups. It will be helpful to know these 5 different types to help you to narrow down to the right type of machine for your needs.
Steam Espresso Maker
As the name suggests, this class of espresso makers make use of steam to push the water through the coffee grinds for pulling an espresso shot. And because steam is used, the pressure produced is not high enough for optimal espresso extraction. The optimum level is 9 bars ( More information is provided in the section below on the factors affecting espresso extraction ). With steam, you only get 2 bars.
The positive point for the steam espresso makers are its inexpensive price. However, if you want authentic espresso with a rich crema layer on top, look at the subsequent 3 sections which cover 3 types of pump-driven espresso machines.
This steam espresso maker is more suitable for those who just need a cheap espresso machine to produce coffee for a quick caffeine boost in the early morning before work or school. Whether the espresso is authentic or not is not really a concern.
Semi-automatic Espresso Machine
The semi automatic espresso machines are pump-driven. Meaning it is able to deliver the optimum amount of pressure to pull an authentic espresso shot. From the term semi-automatic, you can guess that you have to do some manual work when preparing espresso.
For this machine, you have to do the following:
grind your coffee beans ( if you choose not to use pre-packaged ground coffee )
pour the coffee grinds into the portafilter ( the attachment to hold the ground coffee )
tamp the coffee grinds evenly and firmly
clean off excess coffee grinds off the rims of the portafilter
attach the portafilter to the brew head on the espresso machine
Once you are done and start the machine, the machine will start extracting the espresso. However, whether the espresso extraction will stop automatically depends on the model you have. If it doesn't, you get to control when to stop the espresso extraction by switching off with a button.
The semi-automatic espresso makers are made for espresso enthusiasts who like to get hands-on with making espresso.
Fully Automatic Espresso Machine
The fully automatic espresso machines are also pump-driven. Unlike the semi-automatic espresso makers, you do not have to do any manual tasks. These machines use coffee pods. Hence, they are also called pod-based espresso machines. With a touch of a button, you can get a cup of espresso from pod in minutes.
Depending on the model, you can also get machines which makes you cappuccino, latte and even coffee automatically.
This class of espresso makers are ideal for espresso lovers who does not want any hassle in preparing the drink.
Super Automatic Espresso Machine
The super automatic espresso machines are also pump-driven.  Just like the fully automatic espresso machines, superautomatic espresso makers provide automation in espresso extraction. Unlike the fully automatics, you also get an in-built grinder which allows you to produce espresso from bean to cup automatically.
If you like cappuccino and latte, you can also find superautomatics which makes you cappuccino and latte automatically.
This class of espresso makers are ideal for espresso lovers who like to choose their coffee beans but wants to prepare their coffee drink automatically.
Manual Espresso Machines
As the name suggest, this type of espresso makers involved a lot of manual work. Instead of a pump, the manual espresso machines use a piston to produce the optimum pressure for espresso extraction. Hence, you are required to pull a lever down to make espresso. The pulling of the lever will activate the piston to push hot water through the coffee grinds.
With manual espresso makers, you can control every aspects of espresso making. These aspects include:
duration of the pre-infusion process ( the stage of wetting the coffee grinds with water at low pressure )
quantity of water to send through the coffee grinds
optimal time to stop the espresso extraction
This class of espresso makers are really for the pros who like to experiment with every single parameter to make the perfect espresso.
Factors Affecting Espresso Extraction
Making a good espresso involves many factors. This section will give a quick summary of all the factors. For an elaborate discussion on these factors, do check out this guide on how to make the best espresso shot.
Basically, all these factors can be classified into 4 main groups.
Ingredients
Conditions
Equipment
Process
Ingredients
Espresso is made from water and coffee beans. Thus, the quality and freshness of both ingredients can make or ruin an espresso. The general rule is to use fresh and high quality coffee beans and brew them as soon as they are grinded as well as use fresh clean water. With good ingredients, you have won half the battle to making good espresso.
Conditions
There are 7 conditions to pay attention for a good espresso shot. These 7 conditions will affect the extraction of the flavours and aromas from the coffee grinds. The 7 factors are the coffee grind size, tamping pressure, amount of coffee grinds, water brew temperature, water pressure, extraction time and yield.
Equipment
Having a high quality espresso maker will help with achieving the above mentioned optimum conditions. Depending on the features of the espresso machine, some or all of these 7 factors can be taken care of automatically.
You can delegate the control of all 7 factors to the machine with a superautomatic espresso maker. You can also choose to retain control of some of the factors such as tamping with a semi-automatic espresso maker.
However, to ensure you have the optimum brew temperature and pressure consistently throughout the extraction process, it is advisable to invest in a high end semi-automatic or super automatic with features such as PID temperature regulator.
Process
Regular cleaning and maintenance are important to brewing good espresso shots.
The coffee sprouts, filter baskets and rims of portafilter should be clean of any coffee residues. Coffee residues will affect the taste of your espresso. Coffee residues or coffee grinds on the rims of the portafilter can result in poor grip to the brew head. This will result in lower brew pressure due to leakage of pressure.
Regular descaling is a must as it will remove any lime scale build-up  ( a result of continuous heating of water ) in the water circuit. This lime buildup will narrow the water passage in the pipes. This slows down heating and results in a water brew temperature lower than the optimum brew temperature.
Precision in the measurements of various conditions is also important to ensure that they are at their optimum to achieve a good espresso shot.
How to choose the Best Espresso Machine for Home Use?
There are many espresso makers in the market. So, how do we choose the best espresso machine for home use?
No doubt, we have to examine the features carefully. However, the more important questions will be to know what you want exactly first.
Here are some important questions to ask.
What is your budget?
The most important question is your budget. If you have a high budget, you can go for high end models with advanced features such an integrated grinder, PID or dual boilers.
However, if you have a limited budget, then you may have to go for low end models.
What kind of quality do you want for your espresso drink?
Not all brand and models are created equal. Hence, the espresso quality also differs. If you are very particular and demands the best quality taste, a high quality espresso maker is necessary. This will also mean that you have to have a bigger budget.
What type of coffee drink do you want?
If you like milk-based drinks such as cappuccinos and latte, you would want the espresso maker to come with a steam wand or milk frothing capability. Fortunately, most espresso makers come with a steam wand or milk frothing ability.
How many cups of espresso do you need to make with this machine?
Are you using the espresso maker for business such as cafe? or maybe office pantry? Or are you using it for your home? Different purposes will mean different usage levels.
Not all espresso makers can handle high usages. If you require high usage, you probably need a high quality, high duty espresso maker. This also means you need to increase your budget.
If you need to make many drinks at a fast rate, you may require a commercial espresso machine which can be really expensive.
Are you looking to practise your barista skills?
If your sole purpose is to practise your espresso-making skills, it will be better to get a high quality semi-automatic or even manual espresso maker.
If you want convenience, a fully automated or super automatic espresso machine may be more suitable.
After you have answered these questions, you will know the type of espresso machine you want and the features you need to look at.
Some of these features include:
Pressure Gauge
If you are getting an semi-automatic espresso maker, you may be interested in a pressure gauge. Having a pressure gauge gives you a means to monitor the water pressure throughout the espresso extraction process. Thus you have a better picture on the adjustments to make to get a better espresso. If you are looking to sharpen your espresso-making skills, you will love this feature.
Water Source
If you are making many cups of espresso daily, you may want to look for one with a large removable water tank. With a large tank, you can make less trips to refill the tank. If you are using it for office pantry, you may even considering finding one which allows you to connect it to a water source.
Boilers
If you are getting a higher end machine, you may find some which comes with dual boilers. The difference between a single and dual boiler lies in the time-savings. With a dual boiler, you can brew espresso and steam milk simultaneously. However, you have to do these two tasks separately with a single boiler. And because the temperatures for these two tasks are different, there is a waiting time for the boiler to bring the temperature to steam temperature.
Safety
With such high temperatures involved for making espresso, there is a risk of getting scalded. Hence,  an indicator light to reflect its on and off status will be a good feature to have on the espresso machine.
Ease of Use
Do you want to avoid the dealing with coffee powder? Do you want freshly grinded coffee beans? If yes, a super automatic espresso maker with integrated grinder will be a natural choice.
Best Espresso Machine Reviews – Top 5 Best Sellers
This guide will not be complete without listing the best selling expresso machines.
If you are new to espresso or espresso machines, selecting from the best sellers is an easy way to find your best espresso machine.
Why do you think you see authors of best selling books place the best selling tag on their books? It is because it gains more credibility and authority. To become a best seller, the book has to be good in the first place for people to buy it .
Similarly, best selling espresso machines have to be good in their respective ways to become a best seller.
Here are the top 5 best espresso machines who are best sellers.

Price : Cheap
What We Like : Fully automatic. Pod-based espresso maker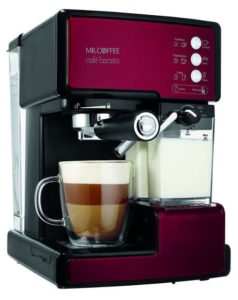 Price : Affordable

What We Like : Automatic milk frothing


Price : Value
What We Like : Integrated grinder, elegant design
Breville BES870XL Barista Express

Price : Mid-range
What We Like : Integrated grinder, PID control, pressure gauge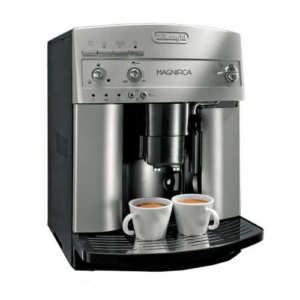 Price : High-end
What We Like : Integrated grinder, dual boiler
Espresso Machine Reviews 101
An espresso machine extracts espresso by applying high pressure to push hot water through the coffee bed in the portafilter. This process enables the flavours to be extracted from the coffee grinds, creating a nice brown crema layer for the espresso.
For those who are new to espresso machines or even espresso, here are some terms and features that matter when reading the best espresso machine reviews on this site:
Bars of pressure – a measurement for the pressure of water pushing through the coffee grinds in the portafilter. The optimum pressure is 9 bars.
Bean Hopper – Part of the grinder, this is a box used to hold the coffee beans.
Boiler – A vessel in the machine which heats the water to the optimal brew pressure for espresso extraction.
Brew group head – The receiver for the removable portafilter. This is where hot water is pushed through the coffee grinds under pressure.
Coffee sprout – The outlet from which brewed espresso flows out into a cup.
Coffee Bean Grinder – A machinery used to chop coffee beans into ground coffee.
Crema – a rich brown layer on top of an espresso shot
Drip Tray – A tray sitting under the brew head to collect the coffee drips or spillovers during espresso extraction.
Filter basket – A metal basket holding the coffee grounds.
Froth – Foam that is created by heating milk with steam using the espresso maker's steam wand
Milk pitcher – A metal jug used to hold milk while you steam the milk.
Portafilter – An attachment to hold the filter basket filled with coffee grinds and is to be secured to the brew head for espresso extraction.
Pull – The action of making a shot of espresso.
Pod – A container capsule used to hold pre-ground and pre-pressed puck of ground coffee.
Steam Wand – An external pipe attached to the espresso maker and is used to froth and steam milk.
Tamping – act of pressing and compacting loose, finely ground coffee into a coffee bed.