Are you looking for a Keurig High Altitude coffee brewer? Keep reading to find out more…

What is Keurig High Altitude?
At higher elevation above the sea level, the atmospheric pressure is lower. And less energy is need to boil water. Thus, water has lower boiling temperature at higher altitude.
The Keurig High Altitude setting enables the coffee maker to brew coffee at higher elevations by lowering the brewing temperature.
What to note when brewing high altitude coffee?
When using Keurig coffee brewers at high altitudes, you may notice that your Keurig K-pods are slightly bloated up. This is due to the difference in pressure within the K-pod and its surroundings. Hence, it is recommended to pre-puncture your K-pod before brewing. This will release the pressure in the K-pod.
This is easily done with these simple steps:
Slot the pod into to pod chamber
Push it down gently so that the exit needle inside the chamber can puncture the bottom of the pod.
Which Keurig coffee maker has High Altitude settings?
There are 5 Keurig models with the High Altitude mode. Each has its pros and cons. Whichever model you buy depends on your needs.
If you do not like topping up water tank, you will like the Keurig K-Elite for its HUGE water tank of 75 ounces capacity. It also brew fast in under 1 minute and does the brewing with minimal noise, thanks to its quiet brewing technology.
Best of all, this is a Keurig with timer. This means you can set it to power on automatically the next morning so that it will be ready for you to pop in your favourite K-cup for brewing when you wake up.
Pros
Can make 4 brew cup sizes – 4, 6, 8, 10 and 12 ounces.
Strong brew option – use this option if you need more caffeine kick.
Can use K-cup reusable coffee filter – this gives you the option to use coffee grounds.
Hot water dispensing function
Fast brewing time of less than 1 minute
HUGE water reservoir of 75 ounces – enough to make you 8 cups of coffee
Simple button controls
Programmable automatic power on and off feature
Large drip tray
Able to accommodate travel cups of up to 7.2 inches tall
Descaling alerts
Quiet brew technology
Adjustable brew temperature
High Altitude settings
Cons
control panel is located at the top. This means you can't place the machine under a cabinet.
available in only 2 different style options i.e. brushed slate and brushed silver
If 75 ounces is too big a water tank for you, K-Select is the next recommended option. It comes with a modest-sized water tank of 52 ounces. Like the K-elite, it brews fast in 1 minute and with minimal noise. However, it doesn't come with the programmable automatic power on feature.
Pros
Comes with quiet brew technology
SmartStart feature. Brew in under 1 minute
Makes 4 brew cup sizes – 6, 8, 10 and 12 ounces.
Strong brewing option
Able to use K-Cup reusable coffee filter.
Detachable drip tray to accommodate taller travel cups to 7.4″ tall
Fingerprint-resistant finish
Programmable automatic power down feature
Large water reservoir of 52 ounces
Descaling alert
High altitude setting
Simple button controls
Available in 9 different color schemes
Cons

Keurig K575
Keurig K575 belongs to the newer Keurig 2.0 brewer series, so it can use both K-Cup and K-Carafe pods. The K-carafe pods allow you to make a carafe of coffee at one go for up to 30 ounces.
If you like to have a Keurig with temperature control options, you will like K575 as it has the 5 options.
It also has HUGE water tank of 80 ounces so that you do not have to refill frequently. If you have a large family of coffee lover, K575 is a great option to buy.
Pros:
huge 80-ounces removable water tank
Can brew 5 K-Cup brew sizes – 4, 6, 8, 10, 12 ounces
Can brew a carafe using K-carafe pods – 22, 26, 30 ounces
Brew fast. Makes K-Cup in under 1 minute and carafe in under 3 minutes.
Brew strength control – allows you to make a bolder coffee using any K-Cup option
5 temperature setting for you to adjust the brew temperature.
Hot water on demand
Extra large color touch sceen
Able program your brewer to turn on automatically at set times, so that it is ready to go when you want it,
Able to program it to turn off at set times to conserve energy
compatible with the Keurig's My K-Cup Reusable Coffee Filter.: Able to use cheaper coffee grounds
High altitude setting
Cons:
Only available in 1 color scheme
Full Keurig K575 coffee maker review
 Keurig K250
Do you like to bring your coffee maker when you travel? Do you like to have the option to make a carafe too? K250 is a slimline Keurig coffee machine which can use both K-Cup and K-carafe. Although not exactly small with its size at 15″L X 9″W X 13.7″H,  its light weight of 7.5 pounds and slimline design makes it convenient to include in your baggage when you travel.
Pros
4 brew sizes for K-Cup – 4, 6, 8, 10 ounces
3 brew sizes for K-Carafe pods – 22, 26, 30 ounces
Strong brew option
Can use K-cup reusable coffee filter
Hot water dispensing function
40 ounces water tank
Fast brewing time of less than 1 minute
 Slimline design, measuring 15″L X 9″W X 13.7″H
Intutive touchscreen control panel
Available in 8 different fun colors
High Altitude setting
Cons
No auto-on or auto-off features
You will need to purchase the carafe and the reusable filter separately
 Keurig K-café
This is a Keurig with milk frother. If you like milk-based drinks such as latte or cappuccino, Keurig K-Café is a good option to consider.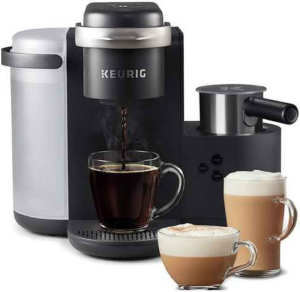 Pros
Can make coffee, cappuccino and latte
Can use fresh milk, including soy, almond, skim for latte / cappuccino
Able to make both hot and cold latte/cappuccino
easy to use
Intuitive button controls
Large 60 ounces water tank.
Easy to clean
High altitude setting
Automatically power off after 2 hours of non-use. This can be disabled too.
Cons
The K-Cafe takes up more space than an average Keurig model, although, if you consider that you can use a frother with it, this one is not so bad.
Integrated milk frother does not deliver frothed milk directly to coffee.
Only 1 color – dark charcoal color scheme