Keurig pod system is a really convenient way to make coffee with no messy powder. But sometimes, you just want to make a lot more coffee for your family at once. And somtimes, you want only a single cup in the afternoons. Hence, a Keurig dual coffee maker is required to serve this purpose. In this post, we like to share our list of Best Keurig with carafe.
Best Keurig With Carafe (AKA Dual Coffee Makers)
K-Duo
The first Keurig dual coffee maker is the K-Duo. This model is the soccer mom of all Keurigs. It simultaneously brews large pots of ground coffee with options of 6, 8, 10 or 12 cups (you know, just in case the entire soccer team wants some) while brewing your delicious single serve cup of Keurig cup goodness.
With a 60 ounce water reservoir, this model saves you the time of refilling your coffee maker over and over and over. When the time does come, the reservoir simply detaches for easy filling, and no more waiting around for your coffee maker to get heated up. The K-Duo will automatically heat and brew in one step, so just hit the button, go about your day and come back to some fresh hot joe, kept warm by the durable glass carafe and included heating plate.
Speaking of Joe… Your husband in a hurry? Use the Pause & Pour feature to stop the brew, pour him a cup and send him on his way. Is that still too much time spent of coffee prep? Set up the Programmable Carafe Auto-Brew feature and wake up to the sweet aroma of your favorite blend being brewed automatically at just the perfect time.
Finally, on those days when nothing seems to be going right (which, let's be honest, is everyday), Joe spilled the coffee everywhere, your daughter forgot she needed to be at school early for practice and your dog decided your shoes were his new favorite chew toy, K-Duo offers you Strong Brew. Just for you. A single serving of bolder, deeper and richer coffee for when there are no mimosas in sight and a margarita at 8 AM seems inappropriate. Let K-Duo be the live-in nanny you never could afford. Start your morning and everyone else's morning off right and with ease and caffeine.
K Duo Essentials
Seem like a little much? You want to save time, but all those bells and whistles might actually confuse you more? Let me direct you to your second option – the K-Duo Essentials. The K-Duo Essentials is much like the K-Duo, but this Keurig with a carafe is all about streamlining with top productivity. It also brews the carafe and the single serve cup at the same time to keep with the efficiency one would want in a Keurig with a carafe. The K-Duo Essentials is focused on getting your coffee made and a lot of it. You can still brew for the whole soccer team with 8, 10 or 12 cup options on the carafe while making a big cup of coffee for yourself choosing from 8, 10 or 12 ounces on the single serve side. This model hold 60 ounces of water in the reservoir to limit your refill trips, and when Joe is in a hurry, the Pause and Pour feature is included in this model as well to minimize morning frustration. The K-Duo Essential provides you peace of mind with a simple approach to your morning coffee routine for the whole family.
With the similar process of the K-Duo, the K-Duo Essentials model only requires you to press one button and your Keurig will heat and brew in one easy step. Don't lose a precious moment worrying about if you turned off the brewer or the included warming plate that keeps your carafe hot and ready for whenever you are. The K-Duo Essentials brewer automatically turns off 1 minute after your last single cup brew and automatically shuts off the warmer two hours after your carafe brews. We've all been there. You turn on the warmer to keep that last half a cup warm because if your husband sees you dumping it, he'll rant on and on about wasting coffee and don't touch the thermostat and stop buying so many Keurigs with carafes on Amazon… Whatever. So you warm that last little bit because he said he would drink it, but he forgets and you forget. That little layer of coffee gets too heated up and ends up burning on the bottom of your carafe. It's a mess to clean up and leaves behind a little smoky flavor in all your coffee after that. The K-Duo Essentials is your saving grace. You'll save so much energy and make your husband very proud.
Watcg this Keurig Dual Coffee Maker in action
K-Duo Plus With Stainless steel Thermal Carafe
Let's say your houses isn't so hectic in the morning. I have no idea what that's like, but I have got the Keurig with carafe option for you. The K-Duo Plus. It seems like this model would be the monster of the three, but on the contrary, it has a much sleeker designer that allows you to fit it in tighter spaces like in between your industrial grade mixer and your brand-new air fryer. Make that fit even more perfect by situating the 60 ounce water reservoir on either the back, the left or the right side of your Keurig. Yes, you read that correctly. The water reservoir is multi-position and easily removable for when it needs a refill. This model does not brew simultaneously, but that does not limit its productivity.
 The K-Duo Plus can brew 6, 8, 10 or 12 cups of drip coffee or 6, 8, 10 or 12 ounces of a single serve cup. Need to take that single serving on the go? Not a problem. The K-Duo Plus has an 8 inch allowance for your favorite travel mug. Don't worry about your drip coffee cooling off after you switch it to brew your own cup. The K-Duo Plus comes with a 12 cup thermal carafe to keep your coffee at the perfect temperature for up to 2 hours. Also a perfect option if you use the Programmable Carafe Auto-Brew to automatically brew your drip coffee before you even get out of bed.
Not only can you brew it automatically, the K-Duo Plus let's you make the most of that Strong Brew option by brewing a strong single cup OR a strong carafe for those days when you realize you forgot to put out the trash and you made tuna salad the night before and everyone is going to need a little extra jolt that week.
What you lose in the simultaneous brewing is made up for in the energy saving features of the K-Duo Plus. The Keurig automatically shuts off only 5 minutes after your last brew, saving you money and effort, but also, Keurig includes their gold-tone mesh reusable filter with the purchase of a K-Duo Plus to minimize waste and create a smooth, silky pot of coffee every time.
Let's not forget all the style points you rack up with this thing with a modern stainless steel finish and slim design, you'll be whipping out of your driveway and onto your morning commute like James Bond.
Keurig Dual Coffee Maker: Stainless steel or glass carafe better?
Both has just own benefits. Stainless steel carafe is definitely a better vessel to keep your coffee warmer longer and it is not breakable. Glass carafe gives you a clear view of how much coffee you have less without needing to peek inside. however, glass carafe can break easily. Also, it is easy to scald yourself with a glass carafe.
Which is the Best Keurig With Carafe?
I don't think I need to convince you that a Keurig with a carafe is the best thing since sliced bread, and honestly, it's even better than that. It is your morning savior. Meet everyone in your household's morning brew needs with the least amount of effort possible, but with Keurig cup capability, you do not miss out on flavor or quality. It sounds too good to be true, and it might be, but I don't question it because it's perfect for me and my family. The only challenge here is figuring out which model is the best Keurig with a carafe for you and the morning problems you're looking to solve. Mine was easy. I needed coffee. I needed a lot of it, and I needed it fast. Also, I wanted my Keurig with a carafe to look like I was a lot richer than I am, so I definitely bought the K-Duo Plus.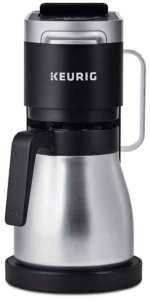 Thanks to the durable designs and smart technology, any of the options are going to streamline your morning, make you feel like a sophisticated barista and overall, help you focus on the more important things in life – more coffee. Hope this review has helped you pick the best Keurig with Carafe to buy!