Do you always worry about making too much coffee? Or do you always have to check the water level to make sure there will be enough coffee made for your whole family. The Keurig K-Cup system will save you from these troubles. In this Keurig K-Elite Review, we will examine its key features to  find out if it is the best Keurig coffee maker for your home.
Keurig K-Elite – A single server coffee brewer with its large 72 ounces water tank capacity, you can make as many single cups of coffee as you like without need to make a refill anytime soon!
Keurig K-Elite Review : Who it is for?
Not all coffee machines are made equal. Every coffee machine has a target customer. And Keurig K-Elite is no different.
Do you need to drink coffee at different times of the day?
This is the single cup coffee brewer . This means that you can pop in the Keurig K-Cup pods to make a single cup of coffee when you need one.  And with its large 72 ounces water tank capacity, you can make as many single cups of coffee as you like without need to make a refill anytime soon.

Want to have different coffee experience everyday?
Tired of one flavor,  try another. Keurig K-cup comes in hundreds of different flavors. And you can even get non-coffee beverages like tea and cocoa in these Keurig pods. So you are really spolit for choices. 
But you are not limited to these K-Cups. Keurig K-Elite is compatible with Keurig's reusable coffee filter  – "Universal My K-Cup Reusable filter" . This will give you the flexibility to use your favourite ground coffee or even fresh grinds from coffee beans.

So your preference for flavor is REALLY in your control.
What do I like about Keurig K-Elite?
The Keurig K-Elite is one of the bigger model from Keurig and it comes with some super handy features.
It's a mostly pretty normal coffee pod machine but it has some really nice and helpful additional features.
You can choose five different sizes of coffee, you can just get hot water, and you can choose your brew option – normal or strong.
But here's our favourite features of the Keurig Elite:
It brews pretty quietly, which is a great plus! .
It will make a coffee in under one minute, so it's nice and fast. You can put in your coffee pod on start up and the Keurig K-Elite will just start brewing when it's ready. You might think this would be a generally standard feature. But in fact, many machines require you to wait until the machine is warmed up before you can insert your capsule.
It has an "auto-on" and "auto-off" feature. This means you can pre-program the machine to turn on automatically at your specified time and it will automatically turn off after two hours from the last brew.
It has iced coffee setting, which you can use to brew the coffee just at the right conditions to pour over your cup of ice! ( note: use a plastic cup instead of a glass one as the hot coffee over ice will likely break your glass )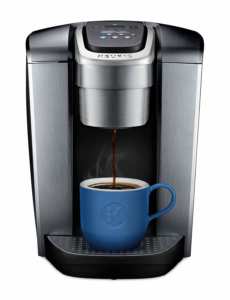 The Design of Keurig Elite coffee maker
It's not the best looking coffee machine you've ever seen, but it's fairly neutral in the styling department. I couldn't imagine anyone would love or hate the styling.
It's on the bigger side, with a huge 75 ounce (2.2 liters) water reservoir, which partly explain the size of the machine.
It has a bit of a futuristic vibe (or maybe that's just me?). I was oddly reminded of Space Odyssesy 2001, which I think might be because of the finish and the array of buttons on top of the machine.
It's a lower end capsule machine, so it's no surprise it's encased in plastic. But of course I would always prefer stainless steel.
There are 11 buttons on top of the machine, including on/off. I tend to prefer simplicity rather than over-complicating a machine with too many options. At least there's no touchscreen to complicate matters. And to be fair, actually, 5 of those 11 buttons are for choosing the size of your coffee.
The buttons also have a blue backlit light which made them look really pretty especially in the dark.
The Keurig K-Elite has a removable drip tray, so you can fit in a travel mug under the coffee spout, and the drip tray has enough space for a whole cup of over-pour.
The water reservoir is accessible by the side, and can be detached for easy fill up.
I quite like the mechanism to put in the pod – lift up the "handle" and the whole top changes like a transformer! Then put in your pod and select what size and strength you want. One thing to note though is that you'll need additional space above your machine.
The Keurig K-Elite is also compatible with the "My K Cup Universal Reusable Coffee Filter" (sold separately). With this filter, you can use ground coffee too and when you need to try other specialty or even decaf coffee, you can do just that!
Key Features of Keurig K Elite Coffee Maker
– Quiet brewing: Won't wake up your house when you're making a morning coffee – always a great feature to have.
– Fast brewing: make a coffee in under one minute
– HUGE water reservoir (72 ounces): spend less time refilling the water tank and more time enjoying your coffee!
– 5 brew cup size options: I have always like this. It may not be the classic espresso, but it's a reality that millions of people everyday drink their coffee with milk in a big mug, so I appreciate having different options.
– Strong brew option: If you need a strong brew, just hit this button. The machine will prolong the saturation of the coffee grounds to ensure maximum extraction for that STRONG coffee. Just note that this may takes a few more minutes for the slower extraction.
– Iced coffee option: Keurig Elite is one of the few Keurig models to have this option. If you like iced coffee, you gonna love this!
– hot water dispenser: use this to make tea, hot cereal or even instant noodles!
– Programmable auto-start: Set a time at night for it to be powered up and ready for you to pop in your favourite K-cup when you wake up.
– Programmable shut-down: save energy and also no need to worry about whether you have remembered to power off the machine on your way to work

Potential Shortcomings of Keurig Elite Coffee Maker
The machine is quite big
The main reason for its large size is its big reservoir. A big water reservoir is always a toss up – do you prefer more space or to spend less time filling up the machine?
But I think for a capsule machine, a bigger water reservoir is probably better. There are smaller options on the market. But if you're buying or considering buying a pod machine, then I can imagine that ease of use is on top of your list. So the size of the water reservoir is a plus.
Cost of the pods
One of the biggest downsides of using pods in general (not just Keurig pods) is their higher cost compared to ground coffee and additional waste they create.
Luckily, the Keurig K Elite is compatible with the "My K Cup Universal Reusable Coffee Filter". This allows the use of ground coffee. If you decide to cut costs in future, you don't have to buy another coffee maker that use ground coffee. And this filter is only at an additional cost of only $15.
Should I buy Keurig K-Elite Coffee Maker?
There's a certain sameness to all capsule machines – this makes them kind of hard to talk about. The coffee is going to be what it's going to be. I have to be honest. Really I've never tasted a capsule coffee and gone, "CAFE QUALITY!"
But they're generally good. They're super easy to use, requiring no investment in time or specific skill. And they get the job done.
And in the case of the Keurig K-Elite, it brews coffee in just 1 minute. And it does it really quietly!
You can also have a strong brew and even an iced coffee option. If you want to adjust the volume of coffee any day, you have 5 options from 4 to 12 ounces.
And to bring convenience to a higher level, you can even program the time for the coffee brewer to power on in advance.
For the price it is selling, Keurig K-Elite coffee maker is really a bargain for you to buy.