I don't know about you, but I love the taste of a good latte. That's what has always kept me spending more and stopping at a coffee shop every morning instead of drinking coffee from home. I could never replicate that coffeehouse latte when I tried to do it myself. Or if I did, it took way too much time for me to do it and required multiple tools or machines. Not to mention the clean up required with that method. And spending time doing all of that before I even had my morning coffee? Forget about it. Does the hassle sounds familiar to you? Well you don't have to deal with that anymore. Just keep reading this Keurig K latte maker review.
The ease of sticking a K-Cup in the Keurig, yet still the delicious taste of a coffeehouse latte? YES, PLEASE!
Keurig K Latte Maker Review : 6 Benefits to Owning It
What is really so special about this Keurig K Latte Maker, you ask?

1.  Perfect Coffeehouse Taste
The machine is your barista. Using the K-Cup of your favorite coffee brand, the Keurig K Latte Maker will brew the perfect shot of coffee for your drink, and it will literally tell you the exact amount of milk to froth for the amount of coffee you selected. There's no guesswork involved, which means that you end up with a perfectly brewed latte every time.
2.  Save Time in the Morning
Think about how easy using a regular Keurig coffee maker is. With this, the only other step is to add milk into the frother and then pour that in your cup. Yes, you can even brew it right into your travel mug to make sure that you have your latte on the go. This takes far less time than it would to sit in that drive-thru line in the morning!
3.  Money Savings
You buy the machine once and after that you just have to stock the K-Cups of your choice. You also use more milk than you previously would have. Adding those expenses together, the costs are still significantly less than the cost of stopping at your favorite coffeehouse for a latte every morning. All those saved dollars means more money towards your other expenses – or maybe towards shopping or saving? I'm sure everybody could find a good use for more money if they had it!
Keurig Latte Maker in action
4. Easy to Clean
The first thing that came to mind when I heard about this was cleaning the machine to make sure no milk sits in it. The way this machine was designed eased those concerns right away. You don't store milk in the machine and it doesn't flow through any other parts. It actually sits in a separate detachable cup on the machine. It's not only easy to use, but also easy to clean. Froth your milk, pour it in your coffee, then go ahead and clean the cup and lid. You can even fold up the base when the frother is not in use. Of course, we all already know how much easier it is to clean up a K-Cup than those messy coffee grounds, too!
5. Variety
We talked about getting the taste of the coffeehouse already, but you also get the variety. If you don't feel like a latte, you can also still brew your favorite regular cup of coffee. What about an iced latte? Simple. Brew your coffee over ice and stir. This machine gives you so many options from the comfort of your own home – and at the cost of doing it from home!
6. Easy to Use
Despite the extra features, this machine is still just as easy to use as your standard Keurig. Instructions are simple. Put in the K-Cup and press the button that indicates which size you want to brew. If you are brewing a specialty drink or latte, then put milk into your frother. It tells you how much milk to use, making it easy to just pour and froth. Then pour the frothed milk into your coffee cup. That's all!. Then you can just enjoy your latte. It doesn't get easier than that!

Should I buy The Keurig K-Latte Maker?
Those are the top benefits I found in using the Keurig K Latte Maker. I already love the variety and ease of the regular Keurig machine. The variety of K-Cups available is endless, and at this point every major coffee company has K-Cups available. The machine does also support the universal reusable coffee filter, so you could also use your own coffee grounds if you wanted to. Adding the variety of specialty drinks and lattes, not to mention all the other benefits mentioned, made this machine a no-brainer for me. Owning the Keurig K Latte Maker is like having your own little coffeehouse in your kitchen!
Related:
Keurig K-Café vs K-Latte: What's the differences?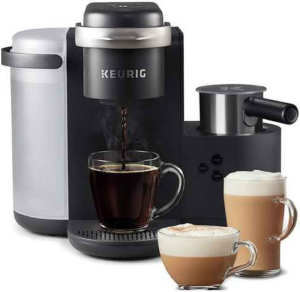 Check It Out
For a slightly upgraded machine and more money, you can also go with the Keurig K-Café coffee maker. This machine has all of the essential benefits listed above. 
Coffee Options
In addition to your regular coffee options and latte, you can also make cappuccinos.
Frother
The frother base doesn't fold up like the Keurig K Latte Maker so this machine does take up ore counterspace, however the frother is dishwasher safe on the K-Cafe machine. A dishwasher safe frother does make cleaning up even easier than with the Latte Maker machine.
Brew Options
It also has additional brewing options, so you have the option for a cup up to 12 oz, whereas you get up to 10 oz with the Latte Maker.
Full Keurig K-Cafe coffee maker Review
Should I buy Keurig K-Latte or K-Café?
Since there are minimal differences between these two machines, I personally chose to stick with the Keurig K Latte Maker since it had all of the major benefits and less of the cost. I also prefer to take up less room on my kitchen counters, so I love being able to fold up the frother base when I'm not using it. The frother is very easy to clean, so hand washing it is not an issue. As far as the size, I usually don't need more than what it brews. On the days where I need another cup though, I just brew another one! It's so easy that it doesn't make a difference. If you love lattes, buy one of these. You can't really go wrong with either machine, but I highly recommend the Keurig K Latte Maker.