Enjoy quality coffee without leaving the comfort of your home. Life's simple pleasures just became even more comfortable with the Lattissima One espresso machine.  This is a coffee machine developed by Delonghi and Nespresso. It's ideal for adding luxury and style into your home with a creamy and tasty cappuccino or better still, a latte at your convenience. We have come up with the Nespresso Lattissima One Review and explored its numerous benefits, features plus more information.
Nespresso Lattissma One Review: Who is it for?
Thanks to its innovative automatic milk system, Lattissima One machine makes creating your favorite creamy cappuccino or latte in the weekend easier than ever.
It can froth the perfect amount of milk and brewing your favorite espresso shot at the same time. Regardless if you are an expert or beginner, you can use this Nespresso model with ease.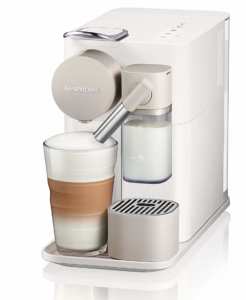 4 Benefits of the Nespresso Lattissima One By Delonghi
Lets us look at some of the features that make this Nespresso Lattissima One coffee machine a worthy investment.
1 Elegant Design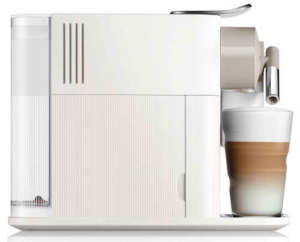 The Nespresso Lattissima One has a unique modern unique design which makes it stands out from the standard coffee machines. The chromed lever, backlit buttons for the 3 drink options and the subtle gloss and matte line patterns gives it a premium look and feel. The Lattissima One is available in 3 colors, namely black, silky white and warm slate.
The Lattissima One is the most compact machine in Nespresso's Lattissima line. It has a height of less than 12 inches and a small foot print of just 6.1 inches by 10.5 inches. Weighing just 9.2 pounds, it is pretty portable and you can easily fit it into most corner of your kitchen.
For added convenience, the cup shelf is also adjustable to allow different cup sizes to fit in. No more worries of buying the exact cup dimensions to get your quality drink.
2 Easy to use
The Lattissima One features both the Nespresso capsule system and Delonghi's automatic milk frothing system.
Using the Nespresso capsules, there is no much preprocessing work. There is no dealing with messy coffee powder before or after brewing your espresso. You just need to slot in the capsule in the machine for brewing. After brewing is done, the capsule will be ejected into the used capsule container once you lift the lever.
The Delonghi automatic milk frothing system takes simplicity to the next level. If you choose to make latte or cappuccino, there is no need to worry about your milk measurements, temperature, or foam. Just pour the milk into the milk container and slot into the machine. Then choose either latte or cappuccino and you will get your drink in no time.
The Lattissima One is a great time saver with a technology that heats up to the optimal temperature in 40 seconds for milk beverages and 25 seconds for espresso. So there is no more waiting for minutes for coffee to start brewing. The quick startup is convenient for a person who is in a hurry and wants a quality drink.
The large water tank of 1.3 litres capacity is a great plus for me as I don't have to make refills frequently. Call me lazy but I really don't want to do too much in the morning before I go to work.
3 Easy To Clean
Cleanup with Lattissima One is just as convenient. This water tank is removable for easy cleanup. You can use soapy water and let it dry on a rack and put it back on. The process is as simple as that. It comes with a user manual featuring direct and clear instructions.
The durable milk jug which comes with the machine is also dishwasher safe. 
With this machine, there is no need to deal with messy coffee powder. The coffee is sealed in recyclable coffee capsules. It is punctured in the brew head and ejected into the used capsule containers after use.
The machine also comes with a descaling alert. Descaling is an important process to remove the lime buildup caused by the heating of water over time. Unlike other machines, you have to manually take note of the last time you performed descaling.
With this descaling alert, you no longer need to do so. Regular descaling is important for the longevity of your espresso machine and also the taste of your coffee since the impurities can alter the taste of your coffee.
4 Versatility of Drink options
Another feature is the 3 pre-programmed settings, allowing you to make various drink options. You can choose your preferred drink with a touch of a button.
If you don't like these pre-programming settings, you can reprogram your machine according to your taste.  And it is very easy to do so by following these steps.
To start, lift the lever entirely and insert the capsule. Gently close the bar and place your coffee cup under the coffee outlet. Touch and gently hold the Lungo or Espresso dial for about 3 seconds to enter the coffee maker's programming mode. The button blinks fast when brewing starts. Release the button when the desired volume is reached. The button flashes 3 times to confirm the new coffee volume.
In case you want to have the original taste settings back, it is also easy to restore factory settings.
Just press the milk button for 3 seconds to enter menu mode. When you see a blinking alert, squeeze the milk button. The milk button then flashes to indicate reset mode. Just go on and press it to confirm.  Then all buttons blink three times. At this point, all volumes are reset. The menu then exits automatically, and the machine returns to ready mode.
Shortcomings of the Lattissima One
Apart from the many advantages, the Lattissima One has a few flaws. It has a premium construction, but the use of flimsy plastic knobs lets it down. Without these plastic, it can look as classy as the Nespresso Creatista.
Another shortcoming is the milk system mechanism. You must disassemble and clean it after every single use. This might get frustrating for someone who is in a hurry.
The milk container also has a small capacity of just 4.2 ounces ( about 125 ml ) of milk. Just about enough for 1 latte macchiato.
Nespresso Lattissima One vs Lattissima Pro
Nespresso Lattissima Pro was introduced before the Lattissima One. However, Lattissima Pro still remains the most expensive model in the Nespresso Lattissima product line for several reasons.
Larger Water Tank Capacity
The Lattissima Pro has a water tank capacity of 44 ounces ( about 1.3 litres ). This is about 50% larger than the Lattissima One.  For a large family or the more frequent coffee drinker, the Pro will make a better choice since you do not have to topup your water tank so frequently
Larger Milk Container Capacity
Beside water tank, Lattissma Pro also has a large milk container capacity of 16 ounces. This is almost 4 times that of the Lattissma One. This means you can make 4 cups of latte machiatto with just one topup.
Larger Used Capsule Container Capacity
Lattissima Pro also beats Lattissima One in the area. It can hold up to 15 used capsules. This is almost 2 times more. I could probably not empty my used capsule containers for a two whole weeks!
More drink options
Besides the espresso, lungo and latte and cappuccino drink options found in Lattissima One, the Pro can make Ristretto and Americano too. If you like the long black coffee drink, Pro is the way to go.
Nicer Design
I find Lattissima Pro a better design with its black and silver aluminium finishing. Lattissima One looks just too plain for me I also prefer Pro's touch display over One's buttons controls.
Should I buy Lattissima Pro over Lattissima One?
With these bigger capacities, the Pro will definitely be larger and heavier.  However, it is not much larger.
It is slightly wider at 7.6 inches compared to One's 6.1 inches. Its height of 10.8 inches is only .7 inches higher. As for its depth, at 13 inches, it is only 0.2 inches more.
Comparing Pro's weight of 12.6 pounds with One's 9.3 pounds, it is only 25% heavier. 
For the added convenience from the larger capacities in the water tank, milk and used capsule containers, I think this trade-off in a slightly heavier machine is something I can trade for.
Moreover, I just like having more drink options and the touch display found in Pro. In fact, I think it is the best Nespresso machine for latte!
Compare Nespresso Lattissima Pro vs Touch vs Plus vs One
Lattissima Touch and Lattissima Plus were introduced even earlier than Lattissima Pro. However, the Touch and Plus share pretty much the same specs as One in terms of capacity for milk and used capsule containers and weight.
However, Touch has a larger water tank capacity of 44 ounces than both Plus and One.
For side by side comparison, check out the detailed comparison table of Lattissima Pro vs One vs Touch vs Plus.
Nespresso Lattissima Models Comparison
| | | | | |
| --- | --- | --- | --- | --- |
|  . | Pro | Touch | Plus | One |
|  . | | | | |
| Water tank capacity | 44  ounces | 44  ounces | 30 ounces | 33.8 ounces |
| Milk tank capacity | 16 ounces | 12 ounces | 12 ounces | 4.2 ounces |
| Width | 7.6 inches | 6.9 inches | 6.5 inches | 6.1 inches |
| Depth | 13 inches | 12.6 inches | 12.6 inches | 12.8  inches |
| Height | 10.8 inches | 10.2 inches | 10 inches | 10.1 inches |
| Weight | 12.6 pounds | 10 pounds | 9.9 pounds | 9.3 pounds |
| Heat up time | 25 seconds | 25 seconds | 40 seconds | 25 seconds |
| Used capsule container capacity | 15 | 10 | 10 | 8 |
| Drink options | Ristretto, espresso, lungo , latte, cappuccino, ,hot milk, hot water for Americano | Ristretto, espresso, lungo , latte, cappuccino, ,hot milk | Espresso, lungo , latte, cappuccino | Espresso, lungo , latte, cappuccino |
| Options for non-use duration before shutdown | 9,30 minutes, 2 or 8 hours | 9,30 minutes or 8 hours | 9,30 minutes or 8 hours | 9,30 minutes or 8 hours |
| Controls | LED Touch Display | Physical buttons | Physical buttons | Physical buttons |
| Available Colors | black with silver aluminum finish | Black, silver, white | Silver, red, white, black | White, Brown |
| Price | $$$$ | $$$ | $$ | $ |
Other People Also Viewed:
Nespresso Lattissima Gran vs Pro
Nespresso Lattissima Gran Review
Nespresso Lattissima One Review : Should I buy?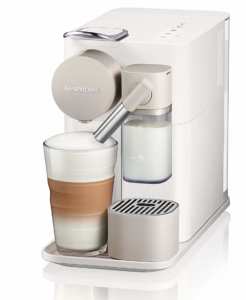 Pros:
Easy to use
Compact
Easy to clean and maintain
Lightweight
Modern design


Cons:
Small water tank
Small milk container
Small used capsule container


The Lattissima One is the most affordable amongst the Lattissima models. It is designed to be compact and classy. However, for this compactness, you have to sacrifice the convenience from the larger capacities in water, milk and used capsule containers. If you ask me, I will pay a bit more just to get the convenience for every single morning.  I still like the Lattissima Pro I have. No complaints! =p